How many times have you said "the game started 2 hours ago and it's only top of the 4rd inning"?
Or sing the Take Me Out to the Ball game" (traditionally done during the middle of the seventh inning) and noticed the crowd was sparse and half the remaining fans were dozing off?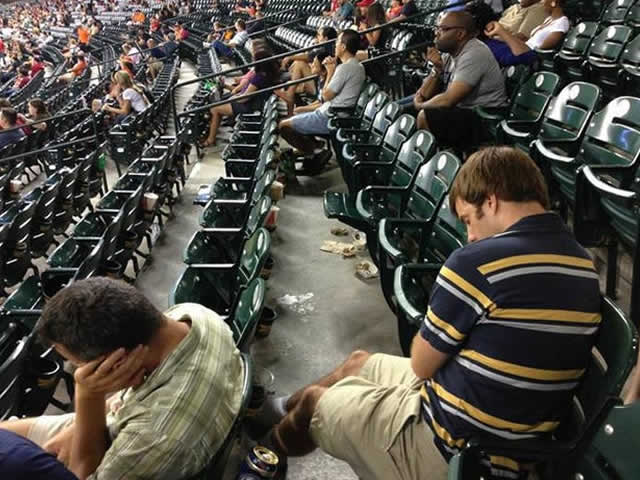 MLB implemented few rules back in 2015 to move the game along at a slightly faster pace by mandating that pitchers and batters reduce their soul-sucking "rituals", but the game is still too slow.
It's no wonder that the national pastime game is in decline! I mean, can you imagine if t
If you have been to a game, your very own "eyeball test" will tell you that the breaks between innings seems to be longer, relief pitchers are throwing more warm up pitches, mound visits are still too long and unnecessary and so on.
Minor league professional games seem bit shorter but that may have more to do with consuming large quantity of (cheap) beer than anything else (j/k).
Table of Contents
Professional League Game Duration
Unlike in other sports, baseball games played in a professional league (Major League Baseball (MLB), Minor League Baseball (MiLB)) do not have a set time limit, although MLB/MiLB are trying to make rules changes in 2020-2021 to address this issue.
On average, a professional baseball game usually lasts nine innings (1) which usually takes anywhere between 2.5 to 3 hours.
This means that at least in theory, a game can go on indefinitely.
How many games?
If you want to know more about total number of baseball games are played in a season for MLB and other leagues, checkout my post, How Many Baseball Games in a Season post.
On the opposite spectrum, a complete game may be made "official" by playing as few as four and a half innings if the game called is by a home plate umpire or a league president due to bad weather.
(1) Due to COVID concerns, MLB reduced the number of innings from 9 to 7 for double header games in 2020 and the change continues today.
Game time for a Youth League
Youth baseball (including high school) games on the other hand consist of seven innings. Non-high school games are normally a timed event (up to 2 hours for a regular season game) whereas a high school games can take anywhere between 2 to 2.5 hours for a regular game.
Not counting weather, youth baseball games have four time-limiting factors:
Age group
Field availability
Regular game vs Playoff game
Mercy Rule
Weather-related delays present problems for both professional and youth baseball leagues (though due to limited playing time slots, youth baseballs games are more at disadvantage).
Age Group for Rec and Travel Teams
Depending on which youth league organization you belong, your age grouping may differ slightly but the below table is what we use in our Babe Ruth / Cal Ripken league:
Tee-ball (Pre-K and Kindergarten) – playing fields are plentiful for most teams; because the are young, coaches are on the field (defense) or next to a batter (offense) to help move them along. In most cases, you can squeeze in 2 to 4 innings in a game. If there are plenty of coaches and the temperature is not too hot/cold, it will take about 1.5 to 2 hours to "complete" a game
Farm A & AA (1st and 2nd graders) – most play on 46/60 fields with lights; primary 6pm game time slot; game consists of 6 innings but most games complete 4 to 5 innings; no new innings after 1.75 hours. Hard stop at 2 hour mark
Minors (3rd and 4th graders) – most play on 50/70 fields with lights; mostly 6pm game time slots with some Friday 8pm games; game consists of 6 innings but most games complete 5 innings; no new innings after 1.75 hours. Hard stop at 2 hour mark unless there is no scheduled game (and team managers and the home plate umpire agree)
Majors (5th and 6th graders) – play on 50/70 fields with lights; even mix of 6pm and 8pm weekday night games; game consists of 6 innings; most games complete the full 6 innings; no new innings after 1.75 hours. Hard stop at 2 hour mark unless there is no scheduled game (and team managers and the home plate umpire agree)
Seniors (7th through 9th graders) – play on 60/90 fields (most do not have lights); even mix of 6pm and 8pm games; game consists of 7 innings; most games complete 6 or 7 innings; no new innings after 1.75 hours. Hard stop at 2 hour mark unless there is no scheduled game (and team managers and the home plate umpire agree)
Babe Ruth (10th through 12th graders) – play on 60/90 fields (most do not have lights); even mix of 6pm and 8pm games; game consists of 7 innings; no new innings after 1.75 hours. Hard stop at 2 hour mark unless there is no scheduled game (and team managers and the home plate umpire agree)
School / Professional Teams
Middle School (7th and 8th graders) – play on 60/90 fields; game consists of 7 innings; no new innings after 1.75 hours; hard stop at 2 hours
High School (9th through 12th graders) – play on 60/90 fields; game consists of 7 innings; no new innings after 2 hours; hard stop at 2.5 hours
College – play on 60/90 fields; game consists of 9 innings; game takes approximately 3 hours to complete
Minor League (MiLB) – also referred to as Class A, Class AA or Class AAA, game format is identical to Major League games; game consists of 9 innings; it takes approximately 3 hours to complete
Major League (MLB) – game consists of 9 innings; thanks to a mandated commercial breaks, it takes approximately 3.25 hours+ to complete
Field Availability
Most sandlot (46/60 or smaller) fields have no lights which is fine for young baseball players (parents I know did not like their youngsters playing baseball game at 8pm).
The majority of youth baseball players play on 50/70 fields. If you are fortunate, they have lights which will allow you to play either the 6pm or 8pm games.
Depending on the number of teams you have playing on these fields, your game time slot may be strictly enforced to squeeze in both games. That usually means once you complete the innings to make the game official (usually 4 or 5 innings), you may be forced to end your game (there are exceptions to this rule – see below; Regular Game vs Playoff Game)
Regular Game vs Playoff Game
Each local youth baseball league has specific guidelines on how a game may be completed. This guideline also outlines exceptions to those rules for a playoff/championship games.
Mercy Rule
Most youth baseball teams have a 10 or 12-run or Mercy rule to end the game if a blowout occurs. You can expect a shortened game in these situations.
Why Does It Take So Long to Play a Baseball Game?
"Since baseball time is measured only in outs, all you have to do is succeed utterly; keep hitting, keep the rally alive, and you have defeated time. You remain forever young." – Roger Angell
In general, fewer pitchers, minimal runs scored and surprisingly, lower number of strikes, all contribute to a fast game (fewer strikeout means batters made contacts in the pitch count; minimal runs scored means most of the contacts resulted in outs).
The perspective of "why does a game last so long" depends on if you are a player or a spectator.
As a former player and coach, I can tell you that most games seem very short, especially if you are paying attention to the offense/defense strategies battling each other on the field (sort of like a 3D chess being played out).
As a spectator, most folks (and some baseball fans) will tell you that games last too long.
Many people say that a 2.5 to 3 hour game time is about 30 minutes longer than necessary.
Common contributing factors
No major sports play without a game clock, except in baseball. NBA has a shot clock and a game clock. NFL has a delay of penalty and a game clock. Soccer has a game clock.
No sane fan, even a die-hard baseball fan, will tell you that they are a fan of waiting. This lack of game clock meant that batters do all kinds of weird rituals after each pitch. Pitchers are no better as they adjust their crotches, hats, spins and do other stuff on the mound.
Some baseball purists will try to tell you that all this stuff is par for the course, but I say hogwash. Do you like going to a restaurant and wait for your food for hours? Of course not.
So here are some of the biggest reasons why a baseball game can be so long:
Forced (and longer) commercial breaks between innings (those multi-million dollar salaries have to come from some place);
Pitcher's inability to get an out early in the count; deep count forces pitchers to throw more, which means they may encounter pitch count limits sooner than later;
Using too many pitchers in a game (usually 4-5 pitchers depending on the situation);
Relief pitchers who warm up in a bullpen, only to be called on to the field to warm up AGAIN;
Time between pitches (elaborate pre-pitch rituals from a pitcher or batter)
Managers multiple visits to the mound to stall the game (don't laugh, this is a real game strategy used to delay the game at multiple levels);
Extra innings that maybe necessary if a score is tied at the bottom of the ninth inning;
High-scoring game;
Weather (rain) delays – weather delays stink for both players and fans. Read about "Yawn Day's Journey Into Night: Dodgers-Padres tie enters Day 2" from ESPN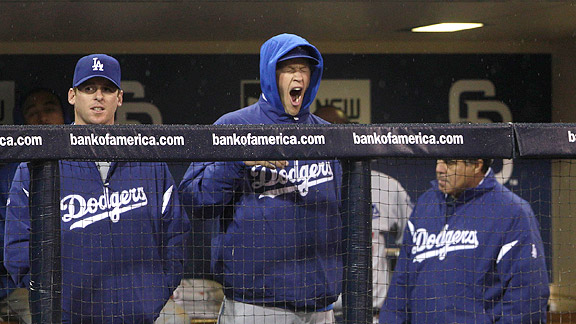 Weather
The weather delays are usually caused by rain or lightning and the game is delayed as long as necessary to ensure that the field is safe to play.
Umpires make the game-time decision as to when or if to resume, though in reality, after two lightning delays most youth baseball games are either cancelled or rescheduled.
This is because a game is delayed 30 minutes after each sighting of a lightning. That means if an umpire sees a lightning and pauses the game for 30 minutes, and anytime during that 30 minute window, another lightning is sighted, the clock resets to another 30 minutes.
In professional games, umpires and league officials are more eager to get a game completed, especially if:
The score is close
The game determines the playoff seeds
It is a playoff / semi-final /championship games
What Was the Longest Game Played in Major League Baseball?
There are plenty of instances where a game took more than 8 hours and 6 minutes to complete with an average of 20-26 innings per game!
Chicago White Sox and Milwaukee Brewers played more than 25 innings and took over 8 hours over two days to complete (White Sox won that game 7 to 6).
Here is a recap from David Adler from the MLB.com:
The game began on May 8. With 14,754 fans in attendance at Comiskey Park, the two teams played 17 innings before the game was suspended at 1 a.m. with the score tied, 3-3. There was an American League rule that no new inning could begin after that time.
Milwaukee looked like it would win in regulation after taking a two-run lead in the top of the ninth inning. But down to their final out and facing Hall of Famer Rollie Fingers, the White Sox rallied to tie the score on a double by Julio Cruz and a single by Rudy Law.
Neither team scored again until the next day. When the game resumed, the Brewers took the lead again in the 21st inning on a three-run homer by Ben Oglivie. Somehow, Chicago managed to tie the game again in the bottom half, on RBI knocks by Carlton Fisk and Tom Paciorek, and the two teams played on.
In the bottom of the 25th — after a scoreless top half by Tom Seaver, on in relief — the White Sox ended the game with a bang. Harold Baines drove a walk-off home run off Chuck Porter to win it for Chicago.
The longest PROFESSIONAL BASEBALL game in history was played between two Triple-A International League teams, The Pawtucket Red Sox and the Rochester Red Wings.
The game, which was played on different days at the McCoy Stadium in Pawtcket, Rhode Island, took 33 innings lasting 8 hours and 25 minutes to complete with Red Sox defeating the Red Wings 3-2.
Here is an accounted outlined by an anonymous writer at the MiLB.com
Baseball's famous "Longest Game" between the Rochester Red Wings and the Pawtucket Red Sox lasted a record 33 innings and took more than eight hours over two different days to complete. The game took place in 1981.

It began on a frigid April 18th evening at McCoy Stadium and was halted at 4:09am by order of I.L. President Harold Cooper.

On June 23rd, Dave Koza, who entered the game as the best hitter in the contest at 4-for-13, hit a 2-2 curve ball from reliever Cliff Speck into left field to score Marty Barrett and give the Pawtucket Red Sox a 3-2 victory over the Rochester Red Wings.

Koza's single came with the bases loaded and none out as the Paw Sox managed to end the contest on their first at-bat in the bottom of the 33rd inning.

"Having the bases loaded was a dream for me," said Koza, who had scored one of the other Pawtucket runs on April 18-19. "I think anyone would have liked to have been in my shoes."

Pawtucket's Bob Ojeda, the team's eighth hurler, gave up a one-out single to Cal Ripken, Jr. in the 33rd but retired Floyd Rayford on a strikeout and John Valle on a soft fly to left and got credit for the win to improve his record to 9-5.

Pawtucket wasted no time against loser Steve Grilli, the fifth Rochester pitcher, who was with Syracuse when the two teams began this marathon game. Grilli hit Barrett with his first pitch and Chico Walker followed with a hit-and-run single to center, moving Barrett to third. Grilli walked Russ Laribee intentionally to fill the bases before giving way to Speck, who lasted four pitches.

It took just 18 minutes on June 23rd to finally end the contest. The game, which drew national attention because of the baseball strike and the historical nature of the event, attracted a near sellout crowd of about 5,800 to McCoy Stadium.

(Longest Game | Pawtucket (milb.com)
Final Thoughts
In 2015, based on the recommendations made by the "Pace of Game" committee, MLB instituted the following rule changes to quicken the pace of the game:
Batters – must keep one foot in the batter's box. This rule is intended to minimize the rituals some batters do after each pitch. Of course, batters can step out of the box completely after a wild pitch or passed ball and can still call a timeout. But the home plate umpire has the authority to call an automatic strike if a batter is taking extra time to get ready. The league can also fine the offender
Pitchers – have 25 seconds between pitches. If this rule is violated, the umpire can issue a warning or a fine. However, please note that superstar pitchers get lot more latitude when compared to a rookie pitcher.
Managers– can now challenge a call from the dugout without stepping onto the field (favorite stalling tactic used by managers)
In 2020, MLB mandated that mound visits be reduced from 6 to 5 and pitchers must face a minimum of three batters or to the end of an inning to further speed up the pace of the game.
Lastly, breaks in between innings shortened to 2 minutes.
I am not sure if the change are big enough to reduce the declining youth participation in baseball but I guess it's better than nothing.
Frequently Asked Questions
Why do youth baseball teams only play seven innings or less?
The primary reasons are time, available fields with lights and the depth of pitching staff. As students, they do not have the luxury of playing baseball games until 11pm or mid-night (though parents do not mind Friday night late games). In addition, there are far more fields without lights than with lights which limited how many games can be squeezed in a limited number of lighted fields. Playing a seven-inning game on a lighted field allows a league scheduler to slot in two games per weeknight (6pm and 8pm).
What is the Shortest High School Game on Record?
The seven inning games played between Paintsville Tigers and Rowan County Vikings. The game place in 2001 and lasted approximately 45 minutes with Tigers scoring the only run on a throwing error. I would venture to guess that it was one of the most boring games ever with both teams producing only three hits and three strikeouts for the entire game!
What is the Longest High School Game on Record?
Unlike professional leagues, high school game stats are not kept in a central database. Score-keeping is better than those at the lower youth leagues but non-game related statistics such as game time, length of game, etc. are most certainly an afterthought. The only reference to the longest high school baseball game is the game between Ponca City High School and Bartels Ville College High School during he 1970s. The game started at 4pm and went all the way to 9 pm that night, with both teams playing somewhere around 22 innings. You can read more about the game at The Ponca City News
What is the 10-run rule (a.k.a. Mercy rule)?
Mercy rule parameters are dependent on which youth league you play under but generally is defined as either team having 10 more runs than the opposing team and end the game (provided that the minimum number of innings to make the game official have been played).
In high school baseball,, the National Federation for High School Sports (NFHS) defines a run rule as one team leading the opposing team by ten or more runs after five innings (or four and half innings if the leading team is a home team).
This saves the losing team from embarrassment and also saves pitchers from both teams for future games.
How Many Innings Are there in JV High School baseball?
In most high school baseball jurisdictions, Freshman and JV games are limited to 7 innings with 10-run or mercy rule
For all high school games, if the home team is ahead after the visiting team has batted in the top of the seventh inning, it does not have to bat.
Game is considered "official" after playing 4 innings should a game need to be stopped due to weather (i.e. lightning).
How long is a JV baseball game?
You can expect the same average time frame of 1.5 to 2 hours for each JV game.
How many innings does college baseball play?
NCAA has re-confirmed that a regulation game consists of nine innings.
How long is a baseball season?
The regular MLB season runs from late March to early October followed by the postseason. MLB teams play 162 games per regular season with each team playing on average 6 games per week
How many games are in a high school baseball season?
Most states allow their teams t play around 25 to 40 regular season games which takes lace in March and June
How many innings are in middle school baseball?
Middle school baseball rules are highly variable but for the most part, games are 7 innings with no new innings after 1 hour 45 minutes with a drop dead time of 2 hours.
How many innings/games are in MLB spring training?
MLB teams play around 30 games in the spring. In addition to providing opportunities for the veteran players to shake off their winter rust (most players haven't picked up a baseball since September/October), General Managers are focused on identifying new talent.
Because most spring training games occur in Florida/Arizona, teams can squeeze in a lot of games in a short amount of time.
Hence, spring training game rules are VERY relaxed so unless both team managers agree, they do not necessarily play all nine innings or the extra innings (if the scores are tied).
Reference Links