Baseball in Japan carries a captivating blend of American roots along with distinct Japanese traditions that make the game unique.
Learn more about the differences in baseball rules, fans, and equipment used by the Nippon Professional Baseball (NPB) league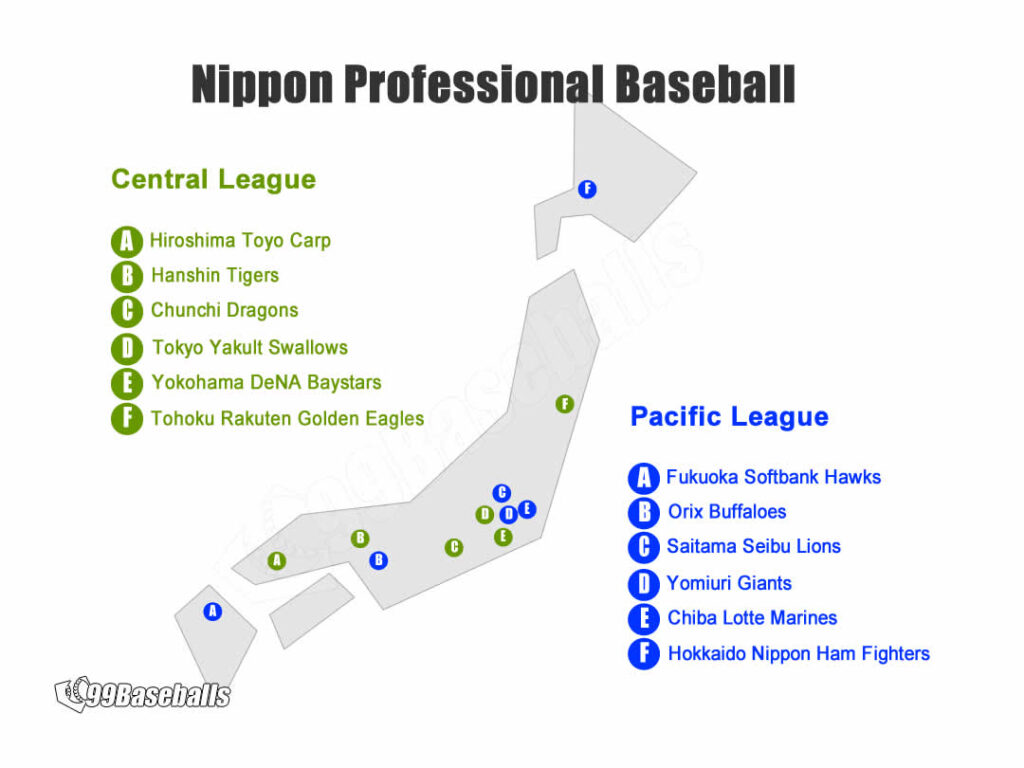 Intro
Japanese baseball, or Yakyū as it's locally called, is a fascinating world that has been thriving parallel to its American counterpart for over a century.
There are subtle differences in rules and game strategy, but baseballs used by Nippon Professional Baseball stand out when compared to baseballs used in the Major League baseball.
Table of Contents
History of Japanese Baseball
In 1872, an American professor Horace Wilson introduced baseball to his students at Kaisei School in Tokyo. The sport quickly gained popularity, leading to a baseball game between American residents and Japanese students in Yokohama.
Unlike in America where young players often participate in little league, Japanese children begin their journey in the game through school-based programs. Elementary schools, junior high schools, and high schools each have their own baseball teams, fostering a (sometimes too intense) competitive environment from an early age.
Don't get me wrong. Japan IS also crazy about Little League (note the capital letters) so much that Little League awarded a separate region for Japan (meaning the top Japanese team automatically goes to the Little League World Series).
The youth and school system are also structured that it provides a smooth transition for players to college and eventually professional baseball for those lucky and talented players.
In 1896, Japan held the first Inter-High School Baseball Championship, now famously known as Summer Koshien. Named after Koshien Stadium where it takes place, this prestigious tournament draws the nation's top baseball teams and is the epitome of high-school baseball in Japan.
The Koshien tournaments are held twice annually (Spring and Summer), and it draws massive crowds and television audiences comparable to professional games. Some players even skip American collegiate baseball to participate in these tournaments, emphasizing their significance.
Koshien – Japan's Field of Dreams
Like everything in Japan, the Koshien Tournament is both exciting and scary to watch. If you have couple of hours of free time, I highly recommend watching Koshien – Japan's Field of Dreams.
Japanese high school and college tournaments are often scouted by NPB and MLB teams alike, looking for the next baseball prodigy.
Birth of Nippon Professional Baseball (NPB)
In 1934, Japan's first professional team, the Tokyo Giants, was formed. This was followed by the establishment of the Japanese Baseball League (JBL) in 1936, marking the official birth of professional baseball in the country.
Nippon Professional Baseball (NPB)
After several evolutionary phases, the JBL evolved into Nippon Professional Baseball (NPB) in 1950, with two leagues, the Central and Pacific, much like the American League and National League in the MLB.
Central League
Chunichi Dragons – Nagoya; Nagoya Dome
Hanshin Tigers – Nishinomiya, Hyogo; Hanshin Koshien Stadium
Hiroshima Toyo Carp – Hiroshima; Mazda Zoom-Zoom Stadium
Tokyo Yakult Swallows – Shinjuku, Tokyo; Meiji Jingu Stadium
Yokohama DeNA BayStars – Yokohama; Yokohama Stadium
Yomiuri Giants – Bunkyo, Tokyo; Tokyo Dome
Pacific League
Chiba Lotte Marines – Chiba; QVC Marine Field
Fukuoka SoftBank Hawks – Fukuoka; Fukuoka Yafuoku! Dome
Hokkaido Nippon-Ham Fighters – Sapporo; Sapporo Dome
Orix Buffaloes – Osaka, Kyocera Dome Osaka
Saitama Seibu Lions – Tokorozawa, Saitama; Seibu Dome
Tohoku Rakuten Golden Eagles – Sendai, Miyagi; Kleenex Stadium Miyagi
The season culminates with league playoffs (Climax Series) in late October followed by the seven game Nippon Series Championship between the two league champions.
Japanese Baseball Season
NPB teams typically begin with spring training in February and March, while regular season games are held from late March to October.
Regular season games take place almost every day of the week (except most Mondays) and are broadcast live on television.
Today, the NPB is the apex of Japanese professional baseball, with each team playing a rigorous 143-game schedule.
Japanese Baseball Star Athletes
NPB has produced many players who played in MLB over the years. Hideo Nomo started this trend when he debuted with the Los Angeles Dodgers in 1995, famously introducing the 'Tornado' pitching style to American audiences.
Since then, dozens of Japanese players have graced the MLB, including the likes of Ichiro Suzuki, Hideki Matsui, and more recently, the two-way sensation Shohei Ohtani.
Conclusion
From its structured youth and school system to intense Little League practices to the professional NPB league, the sport forms an integral part of Japan's cultural identity.
It is not just a game, but a representation of Japanese values of respect, discipline, and teamwork. In its evolution, it's managed to echo the past while innovatively moving towards the future.
You May Also Like