Key Points
RIF / SEV Index baseballs are softer and more compressible than traditional baseballs, reducing the risk of injuries for young players
Using RIF / SEV baseballs allow for safer learning environment for children to develop their baseball skills while minimizing the fear of injury
Introduction
During the warm summer months, people of all ages engage in America's favorite pastime by lining the streets and parks with baseballs, bats, and gloves.
Baseball is an exciting sport, especially for young children who are just beginning to learn the intricate rules and proper techniques, but parents must keep in mind of the injury risks.
In 2021, roughly 15.6 million Americans above the age of five-year-old played baseball. [a1]
Nearly 110,000 children from ages 5 to 14 were treated in hospital emergency rooms for injuries, such as concussions, broken bones, dislocations, and blunt chest trauma, from getting hit by a high velocity baseball. Worse yet, approximately three to four children dye from baseball injuries each year. [a2]
Statistically, a chance of getting severely injured is very low but that is of little comfort if your child falls into that bucket,
We will review and learn how Reduced Injury Factor (RIF) baseballs may be used in youth baseball to minimize some of these injury risks.
Please note that some manufacturers use the term Severity Index (SEV) , originally coined by MacGregor, to describe similar baseballs.
History of Reduced Injury Factor (RIF) Baseballs
Baseball is one of the safest sports, but on rare occasion, injuries occur when a thrown or batted baseball traveling at high velocity hits a player.
Let's review some baseball history to understand why using RIF or SEV baseballs in youth baseball is a good idea .
During the Dead-ball era in baseball (1900-1919), they made the inside of a baseball from melted rubber soles. This rubber core was too soft, preventing batters from hitting the ball far.
In addition, each game used a single baseball causing further performance degradation.
Both National League and American League (they were two separate entities before merging to form the Major League Baseball) introduced a cork-centered ball invented by Ben Shibe [b1] to address the complaints from fans (and some players) about the low-scoring games. New cork-centered baseballs dramatically improved the batting averages.
The unfortunate side effect of livelier baseballs was the number of injuries. Injury concerns peaked when Ray Chapman, a Major League player, died in August 1920 [b2] after being struck in the head by a pitch.
This tragedy led to increased scrutiny of baseball, with many calling for changes to make the sport safer.
During the 1980s, advances in technology and manufacturing processes resulted in the development of the Reduced Injury Factor (RIF) baseball by Worth Inc. sporting goods company. (SEV Index is the term used by other companies).
Many baseball purists will say that RIF and SEV baseballs are sacrilegious since millions of kids and adults play baseball, and the number of injuries is small. [b3] However, it is worthwhile to consider using the RIF or SEV Index baseball in youth baseball leagues to prevent major injuries.
What is an RIF / SEV Index Baseballs?
The term RIF was originally created by Worth, Inc., a sporting goods company originally founded by
George Sharp Lannom Jr. in Tullahoma in 1912 as Lannom Manufacturing Company (Worth, Inc. is now part of the Rawlings Sporting Goods brand owned by MLB).
Leveraging its experience developing polycore softball technology, Worth developed Reduced Injury Factor (RIF) baseballs and softballs.
SEV Index was coined by MacGregor sporting company roughly at the same time to describe similarly constructed baseballs and softballs.
RIF / SEV baseballs are designed to decrease the risk of injury while preserving the integrity of the sport.
There are three main levels of RIF/SEV baseballs:
RIF1 / SEV INDEX 1: The highest level of compression and are the softest RIF balls available; typically used in T-ball, during games for beginner players, and for training purposes
RIF5 / SEV INDEX 5: Has a medium level of compression and are slightly firmer than RIF1 balls but are noticeably softer than a hardball. They are commonly used among Eight to ten-year-old players (ex. intermediate youth leagues)
RIF10 / SEV INDEX 10: With the lowest level of compression among RIF baseballs, RIF10 balls are the closest to traditional baseballs in terms of firmness. They are often used among children older than 10
RIF / SEV vs Regular baseballs
To the naked eye, RIF and SEV baseballs are identical to the traditional hard ball**. They both have 9 to 9.5 inches in circumference, weighs roughly 5 ounces, and have the same number of stitching.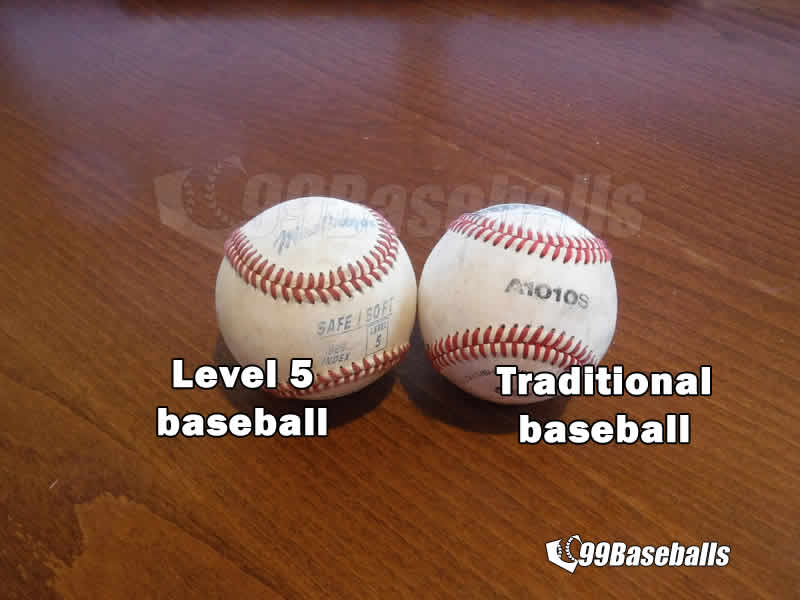 ** when comparing a leather covered traditional ball to a leather covered RIF / SEV baseball.
The big difference is what is inside the ball. A regular hardball contains wound yarn and/or fiber with a cork pill. In contrast, the core of a RIF/SEV baseball consists of polyurethane foam that is soft and compressible.
Some proponents of the RIF/SEV baseballs say it performs equal to a hardball, but based on my own experience, that is not the case as batters will experience a reduction in power when hitting an RIF baseball.
State Regulations and Acceptance Challenges
The youth baseball leagues, such as Little League and Babe Ruth League, recommend using RIF or SEV Index baseballs for younger age groups or divisions with inexperienced players (ex. Recreation leagues) because these baseballs are designed to be softer and less dense, reducing the risk of injury from being hit by the ball.
Many states in the United States adopted regulations to follow the guidelines set forth by national youth baseball organizations such as Little League Baseball and Babe Ruth League, effectively resulting in the use of RIF / SEV Index baseballs in many youth leagues across the country.
Note on State Resolutions
State legislatures in New York, Georgia, Texas, Michigan and Tennessee passed resolutions urging children's baseball organizations to adopt stronger safety measures.

In addition, five cities-Ann Arbor (MI), Toledo (OH), Rockville (MD), Tallahassee (FL), and Roanoke (VA) have mandated the use of youth safety baseballs and softballs in affiliated league play.

Please note that state resolutions are recommendations only so your state's affiliated league may follow different rules.
Today, RIF / SEV Index baseballs have gained significant traction in youth leagues, where the emphasis is placed on safety rather than performance.
Despite the benefits associated with RIF / SEV baseballs, the adoption has been slower or even absent in more advanced leagues as players and coaches express concerns that performance differences between RIF / SEV and traditional baseballs may hinder the proper development of players' abilities and skills.
Additionally, many raised concerns that polyurethane-based RIF / SEV baseballs will negatively impact the environment where traditional balls are bio-degradable. To ensure your child's safety, you should consult your parks and recreation department or local baseball leagues to see what kinds of baseballs are used for young players.
League Adoptions
Most major youth baseball leagues, such as Little League, Babe Ruth (Cal Ripken), PONY, and American Legion recommend using RIF / SEV Index baseballs for youth players under 13 years old and traditional baseballs for 13- or older players playing on a big field (please refer to the Complete Guide to Baseball Field Layout for more information on field sizes)
Your local league may use specific brand of RIF / SEV Index baseballs so make sure to check your representative.
Suggested RIF / SEV Index Baseballs
Please remember that Worth, Inc. is now part of Rawligs Sporting Goods (owned by MLB).
RIF 1 / SEV Index Level 1
RIF 5 / SEV Index – Level 5 Baseballs
RIF 10 / SEV Index – Level 10 Baseballs
Conclusions
The emergence and development of Reduced Injury Factor (RIF) or SEV (Severity) Index baseballs have profoundly influenced the game of baseball, especially within youth leagues where safety remains paramount.
As the emphasis on safety persists within the youth baseball community, the demand for RIF / SEV baseballs is expected to rise, prompting manufacturers to continuously refine RIF / SEV baseball's performance and safety features.
Experimentation with innovative materials and technologies aims to produce even safer balls that still deliver the preferred feel and performance of a traditional baseball.
Frequently Asked Questions
Is tee ball same as RIF1 or SEV Index Level 1 baseball?

Yes, in almost all cases, RIF1 / SEV Index Level 1 baseball is identical to baseballs branded as "tee ball"
Related Posts