Key Points
Having your own backyard batting cage is a great way to increase practice time
Batting cages come in various sizes to fit your spacing needs
If you are unsure about needing a backyard batting cage, you should read this post from the beginning. Otherwise, if you know you want to either buy or build one, go ahead and jump right to the Getting Started section
Main Table of Contents
Introduction
Quick recommendations

For a player who are 1 to 5 years old – Rukket 7×7 Baseball Net Backstop Screen
For a player who are 6 to 8 years old – Gagalileo Batting Cage (10ft H x 12 ft W x 44 ft L)
For a player who are 9 to 11 years old – Skywalker Batting Cage (10ft H x 12ft W x 40 ft L)
For a player who are 12 years or older – DIY Backyard Batting Cage + Foretress Batting Cage net (12ft H x 14ft W x 70ft L

Is Backyard Batting Cage really necessary
Appropriate Batting Cage Size for your child
Free-standing or Fixed (poles set in the ground)
Choosing Framing Materials
Hitting Cage Nets Explained
Twine Sizes
Netting Materials
Perimeter Net Stitching to Bone Ropes
Square Hung vs Diamond Hung Patterns
Prefabricated Hitting Cage or Build Your Own
Top 4 Batting Solutions

For a player who are 1 to 5 years old – Rukket 7×7 Baseball Net Backstop Screen
For a player who are 6 to 8 years old – Gagalileo Batting Cage (10ft H x 12 ft W x 44 ft L)
For a player who are 9 to 11 years old – Skywalker Batting Cage (10ft H x 12ft W x 40 ft L)
For a player who are 12 years or older – DIY Backyard Batting Cage + Foretress Batting Cage net (12ft H x 14ft W x 70ft L)
Introduction
Being a baseball junkie, I truly believe that all ball players should have a backyard batting cage.
Bu that does not man you should go out and spend your hard earned dollars willy nilly.
Here are some questions you should ask yourself:
How easy is it to install and breakdown?
Do I have enough space in my backyard?
What is the largest batting cage should I buy?
Should I leave the batting cage net up year round?
How much does it cost?
As you can see, the decision to buy (or build) a particular batting cage will depend on your available space, needs and other restrictions.
In this post, I will review some critical factors that go into making a good batting cage so that it will serve your child's needs for years to come.
Quick Recommendations
I highly recommend that you read the entire post before making your purchasing decision but I get that sometimes you just want a quick answer.
Just keep in mind that if your child is 9 years old or older, you will need to consider getting an enclosed batting cage to keep the errant baseballs from breaking stuff. You will also need to keep in mind if you want to dedicate your backyard space for a batting cage (i.e. permanently installed support poles vs. something that can be broken down relatively easily).
If Your Child is in between 1 to 5 years old
Two products I have owned and recommend are Bownet 7′ x7′ Big Mouth Portable Sock Net or Rukket 7xx Baseball Net Backstop screen.
Both offer a high quality nets and frames and are very easy to setup and breakdown but Rukket screen offers a lifetime warranty and is about half the cost of a Bownet screen.
I sold my Bownet to a friend but I still own the Rukket backstop screen and after 3 years of heavy use, I am happy to report that everything is still in excellent condition so I guess I am biased towards the Rukket net.
If Your Child is in between 6 to 8 years old (6-7,8u)
If you have a child that lives and breathes baseball, I would probably skip ahead to the 9-11 or 12+ year old sections.
If your child is still somewhat indecisive about playing baseball (which is perfectly normal by the way), there are many pop up batting cage products from Heater Sports, Fortress and Gagalileo.
Because these home batting cages are meant for younger kids in mind, most do not come with heavy-duty frames but instead come with flexible plastic frames which do not fair well with heavy rain/wind.
Gagalileo Batting Cage sets itself apart from others by providing stronger metal frame rods that comes with a durable but light-weight backstop netting.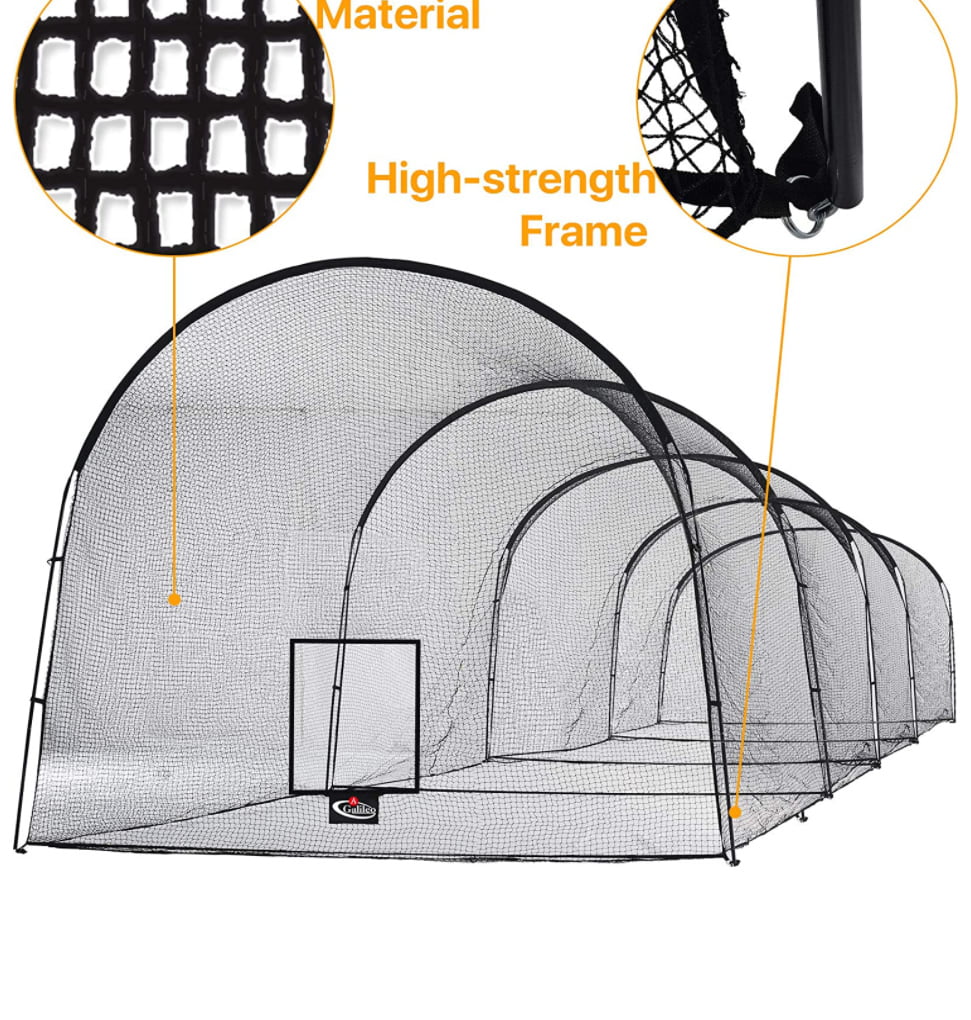 Coming in at 10 feet in height (10 ft height, 12 ft width and 44 ft long), it gives a batter a plenty of freedom to swing their bats and see the ball trajectory.
Just keep in mind that as a light duty batting cage, the netting will be more than sufficient for younger kids hitting real baseballs but it will not survive too long with 17 year olds.
Value wise, I think it's worth paying the extra $100 to buy the 44ft version (check out the latest price on Gagalileo batting cage here).
If Your Child is in between 9 to 11 years old (9u-11u)
Skywalk Batting Cage is one of the best cages that comes with very durable net. The 12 ft wide x 10 ft high 40 ft long cage supports multiple ages and abilities and yes, the netting will hold up to repeated batted baseballs from older kids.
Unlike other batting cages, Skwalker batting cage does not require "guy" wires which reduces the tripping hazard. It does however, require about 16 foot base footprint due to the cage netting being inside the frame.
As is the case with most batting cages, I would highly recommend that you wrap the upper poles with some foam pipe wraps because even with an inner net design, a well hit ball will find a way to hit these posts and cause damages. I would also weight down the sides of the netting to prevent a batted baseball from hitting the side poles. You can check out the latest Skywalker Batting Cage here.
If Your Child is 12 years or older (12u+)
If your son or daughter is still enjoy playing baseball or softball at this age, and if you have space in your backyard, I highly recommend building one out of 4×4 pressure treated posts and purchasing a batting cage net. You can find out how to build one at AllThumbsDIY.com (click here).
As far as buying a new batting cage net is concerned, Net World Sports has a really good batting cage net consisting of #42 heavy-duty HDPP netting (click here for the latest price).
Is a Backyard Batting Cage Really Necessary
Most casual observers don't really understand how incredibly hard it is to hit a baseball. It is so hard, even professional bally players continue to practice hitting in their prime years!
You can also use this portable back stop as a pitching net (i.e. to practice pitching from the mound) or as an extra infielder (i.e. set it up by first base; you can have your child play various infield positions and practice throwing to first).
Your child is just starting out so you want something that is durable and functional tool for this age. There is no need to spend a lot of money on a batting cage. Instead, I recommend a high quality portable back stop (a.k.a. portable batting pop up net).
So it is very important to get your child to get used to practice hitting everyday early on because it takes hundreds and thousands to swings to get their muscles to "memorize" the proper batting mechanics.
There are four options when it comes to batting practice:
Option 1 – Practice on a field
Option 2 – Practice at a commercial batting cage facility
Option 3 – Practice in a batting cage at a local field/park
Option 4 – practice in your backyard (either with pop-up net or batting cage)
Practicing on a field is a good choice because it simulates a "game time" feel for your child. The obvious drawbacks are driving time to/from a fielder and you have to retrieving all batted baseballs.
Hitting at a commercial batting cage is another good choice. However, a commercial batting facility may not be a good option if:
Your child is 10 years or younger because the slowest speed at which these pitching machines can throw is around 45 mph
Your child uses a composite bat (most youth leagues require this type) because commercial pitching machines usually use dimpled balls which may void the warranty of your child's composite bat
And of course, it will be expensive if you go to a batting cage two or three times a week.
Practicing in a batting cage at a local field is another very good option but you still need drive to/from the field and you have to pray that a cage is available when you get there.
I was lucky to live about 15 minutes away from a local baseball facility with multiple cages but I still ended up spending a lot of time waiting around.
My story
With summer season in full swing, it's hot and muggy but I need to run batting practices for my son Greg (12 year old baseball player) and Jasmine (9 year old softball player).

As usual, we all hurry up and pack up my minivan to the gill, with buckets of softballs and baseballs, batting tees, helmets, gloves, bats, gloves, water bottles and snacks, and head to a local turf field that is about 15 minutes away.

When we arrive, we find the baseball complex is busy with activities and kids are disappointed that all batting cages are being used by kids.
Since the field is all occupied, we do some light stretching then eat some snacks while waiting for one of the batting cages to open up.

After waiting for about 30 minutes, a batting cage near me opened up so we rush to it and start unpacking our stuff (which takes way too much time!).

Of course, I can't pitch to them at the same time so one child is waiting outside tossing a ball in the air while the other one is batting with me.

We do some dry swings and tee work for the first half hour (15 minutes per player), then do some live pitching for the second half hour. Of course it's getting hotter and more humid so we call it quits after just 1 hour.

Next 15 minute is spent on picking up the equipment and stuff them back into the van for our drive home.
Saving Time = More Practice
Fortunately, it's spring so my budding baseball and softball players are full of excitement and anticipation for the season to begin.

Unfortunately, it's spring so the air is still crisp and it rains a lot.

Thankfully I now have 70ft Length x 15ft wide x 12 ft tall in my backyard.

I can't help but smile when my kids tell their friends that they have the best backyard batting cage in the whole town!

All necessary equipment are stored in a shed next to the batting cage so no more packing, no more unpacking, no more driving!

I can also cherry pick the time of day to get around those pesky rain clouds.

Today, I tell my kids that Jasmine will begin her softball batting practice first, followed one hour later by Gregory's baseball hitting practice.
Greg promptly takes off with bike to hang out with his neighborhood friends.

Jasmine and I walk over to the shed and grab our softball equipment.

After stretching and light throwing, Jasmine starts off with 50 dry swings (each side) followed by tee work.

I record her hitting mechanics with a camera mounted on a tripod just outside the netting so she can see what improvements she needs to make.

Satisfied with her adjustments, we do live bp session with 3 buckets of softballs.

At the conclusion of our 20 minutes of highly productive practice, we do some cool down stretching exercises and wrap up the BP session.

Rinse and repeat with Gregory.
Happily ever after?
After heavily using my newly built cage for a season, I am happy to report that my kid and I are VERY happy!
Plenty of smiles to go around as we no longer had to lug all our baseball and softball equipment. Life was good!
With all that extra time, my kids and I were able to practice more frequently and in-depth, trying out different mechanics and others. My son ended up being one of the top batters on his team and Jasmine its softball the hardest!
Although my wife was initially against the idea of building a backyard cage (her complaint was that it would take up too much space), she sees it being far more beneficial than she had imagined.
Our only regret was not deciding to get the best backyard batting cage sooner!
So if you are a baseball/softball fan like me and you want your kid to excel, I highly recommend getting a backyard batting cage (unless you happen to live 2 minutes away from a baseball complex – I am talking about you Charlie!)
What Size Batting Cage Should You Buy or Build
The size of the backyard batting cage would depend on your available space and the evenness of your ground.
However, it is important to go as tall and wide as you can, to allow growing players to continue hitting inside the cage.
As the player gets older, not only does s/he get taller, the bat length also increases so you need to count for larger swing area.
The length is not as important as the height or width but once again go with the longest length that your backyard would allow. This is because a batting cage can also be used as a pitching cage.
As you may be aware, young pitchers usually have difficult time controlling their pitches so it saves a lot of time having him pitch to you inside the catch (i.e. less broken windows).
If you go with a 70 ft length cage, you can actually setup a pitcher's mound to simulate the big field (60 ft 6" from pitching rubber to home plate).
One last thing to keep in mind is that should you decide to build your own batting cage, research the types of nettings that are available (generally in even sizes like 12x12xdesired length or 14x14xdesired length, etc.)
You should not build a random sized cage because you will have a hard time finding the correctly sized net (or barring no other options, pay for a custom net which will be very, very expensive)
Backyard Batting Cage Dimensions
A typical baseball batting cage size for older kids is 70 ft long x 14 feet wide and 12 ft high.
Obviously if you do not have enough room in your backyard, you will have to opt for a shorter/narrower netting but as I said before, try really hard to buy the largest one you can fit/afford so you do not have to upgrade later.
Length
The most common (and optimal) length for a baseball batting cage is 70 feet.
70ft cage will also allow plenty of room adjust the distance between a pitching rubber and home plate, including regulation pitching distance of 60ft 6in.
Width
In quality batting cages, you will find that the width usually 12ft or 14ft wide.
12ft wide cage can be adequate for players who are shorter than 6ft, though you have to account for their overall wing span and the bat length.
A 14ft wide batting cage provides extra 2ft of spacing which allows both right or left-handed batters to take full swings without moving the home plate.
For bigger players, 14ft wide cage would minimize the risk of making contact with the netting on their back-swings.
Height
One of the most important feedback that hitter can have is ball flight tracking after making contact with baseball.
Although the standard height is 12 ft, the netting will have to sag 6 inches or so on both side to contain baseballs. This in effect reduces the height to 11ft which is okay.
If at all possible, get the 14ft high cage to make the cage height as tall as possible.
Benefits of Buying a Large Cage
Regardless of pitching distances and player's size, there are definite advantages to using a larger sized backyard batting cage.
Here are bunch of advantages I could think of:
Buy it once as kids will grow into it (13 year old players tend to transition to "big fields" (a.k.a. 60×90) from their "small fields" (a.k.a. 46×60 or 50×70) around this age)
The wider tunnel allows a player to swing from both sides of the plate without making any plate adjustments
Batting mechanics are constant work-in-progress so having freedom to swing wide without hitting the net is a plus
Batters need to see where baseball goes to make adjustments
Batting Cage Size Recommendation
If your child is the younger age group, you should consider going with either backstop pop-up nets or smaller (36ft) batting cages. You don't want to spend all that money upfront if your child decides that he likes soccer more than baseball!
On the other hand, having a larger (70ft) batting cage can gives you so much more flexibility so if your child is older (say 12 or 13 years old) and he loves playing baseball. In that case, you should go with the largest size you can fit into your backyard.
Free-standing or In-ground (buried poles)?
I think we all would like to own a Major League Baseball style batting cages in our backyards but the that is not reality, right ? 😉
The easiest batting cage to buy and install would either be a 100% free standing batting cage or partially secured hitting cage (i.e. ground stakes) but the final choice would be highly contingent on where you live.
If you live in a windy area, installing a 100% free standing batting cage would not be recommended.
If you happen to live in a cold, windy area, a free standing cage secured by ground stakes is probably not a good idea either.
If either of those conditions is present, your best bet would be to install poles which would be partially buried below your state's frost line (to minimize frost heaving).
Free-standing batting cage
Free-standing or above-ground cages sit above the ground without requiring any footings. Most of thee batting cages do come with spade-tips that are pushed into the ground approximately 6″ for nominal support. They may also come with extra supporting guide ropes and ground stakes which are used to resist against wind.
Although sometimes referred to as "portable" cages, anything above 30ft or longer cages are too large to be quickly broken down and put backup at your next game.
For those pre-game needs, you may want to look at 7ft x 7ft backstops (LINK TBD)
Target Audience
Because these cages come with relatively weaker support poles as well as weaker netting, they are really meant for younger players (10u or younger), perfect for hitting off a tee or underhand soft tosses.
Some models come with a pitching machine hole where you can place the pitching machine outside the cage to pitch balls to a batter inside the cage.
Outdoor Weather
The primary disadvantage of a free-standing cages is that they are susceptible to wind, rain and snow.
This is especially true if you live in a place that is often windy.
Even though these portable batting cages are battened down somewhat, weaker support framing coupled with shallow buried tips means they are likely to flipping or their shapes being "squashed".
Above-ground batting cages do breakdown with relative ease so they can easily be stored when the season is over.
In-ground (buried poles) Batting Cages
In-ground cages are what you normally see at your local baseball fields. These usually come in a standard size of 70ft L x 14ft w x 12ft H.
Some models in this category do require concrete footings; others utilize the same techniques used by smaller batting cages (i.e. "stake-tipped" poles to partially bury the supporting frames into the ground) which I do NOT recommended due to higher wind loading factor.
For models requiring concrete footings, it is recommended to either purchase or install your own ground sleeves (that is partially buried in concrete footings) so that the supporting frames can be removed for off-season storage.
Nettings used in these in-ground cages are intended for bigger and stronger players to better resist against higher impact force and abrasion.
Free-standing vs In-ground (buried poles) Recommendation
The primary disadvantage of the in-ground batting cages is that the cost and installation effort will be higher when compared to the free-standing models.
However, you get a cage that is very sturdy and if built correctly, will last a very long time.
If you live in part of country that is either very windy or cold, you definitely should consider installing the in-ground cage with concrete footings below a recommended frost line to prevent frost-heaving.
Choosing the Right Framing Materials

When it comes to structural frame, the most common material used among high-quality manufacturer is a galvanized and coated steel pipes and wood.
Although they are sturdy and will last a long time if properly maintained, expect interconnecting parts (i.e. 90 degree joints, couplings, etc.) to rust.
Thin steel pipes tend to bend and distort over a short period of time so make sure that pipe's outer diameter is at least 1 5/8" but some people have used ¾" electrical conduit, steel galvanized pipes (EMT).
Lower priced batting cages tend to use either 100% flexible fiberglass rods or some mixture of thin steel poles for side support and fiberglass as top cross members. I would avoid any kinds of PVC-like materials, no matter how they are treated, as left out in the sun, they will ultimately become brittle.
For those of you building your own batting cages (like me), a solid choice is good old 4×4 pressure-treated posts. They are relatively inexpensive, and although they can twist and bent as they dry out, you have the flexibility to add eye hooks or fasteners to any location you desire with ease.
With wood poles, however, you will need to set them into the ground as ground stakes will NOT be sufficient to support lateral forces.
In a DIY batting cage setup, it's common to see pressure-treated 4×4 lumber as they are relatively inexpensive and easy to cut and drill holes for customized rigging.
This is the material I chose to work with for my custom built best backyard batting cage setup.
Batting Cage Framing Material Recommendation
Larger Outside Diameter (OD) and wall thickness will provide maximum strength and durability
Less expensive frames will not last as long as galvanized steel or wood as these inexpensive cage frames are really meant for younger novice players
Galvanized steel connectors like 90 degree elbows, couplings, etc. are not impervious to rust if you leave them outside year round
some pressure-treated 4×4 lumber will twist and bend as they dry out so netting tension should be loose
4×4 posts are heavy so they should be sunk into the ground (to prevent them from toppling over)
Concrete should be used to secure (metal and wood) posts to minimize the risk of them getting dislodged from use and ground swelling
You should NOT purchase a net that drapes over the frame. Hard batted balls will quickly damage the exposed frame.
Batting Cage Nets
One of common mistakes people make is that they focus on only on the break strength (i.e. thread thickness) of a given batting cage net which is a mistake.
The break strength of a net is determined by calculating how much tension may be placed on a strand before that strand breaks.
#18 nylon net will have a break strength of about 130 pounds versus a rolled up newspaper that has a break strength of about 220 pounds.
Although the newspaper has significantly stronger break strength, the #18 nylon net will last much, much longer.
Why? Because the rolled up newspaper will breakdown in the sun and rain in just couple of weeks!
All this means is that you cannot simply assume that a batting cage net with higher break strength will outlast than a netting with a lower break strength.
Most batting cages will start to fail if their break-strength approach 60 to lbs (roughly equivalent to #12 polyethylene).
That means if a batting cage starts out at 420 lbs (i.e. #42 nylon) but below 60 lbs. in two years, the cage netting will last only 2 years.
Conversely, if a cage starts out at 200 lbs. (i.e. #21 nylon) but drops below 60 lbs. after seven years, that cage will last seven years!

Seven Important Factors When Choosing a Batting Cage Net
Netting Materials
Twine Sizes
Construction – Stitching and Border Ropes
Construction – Edging Types
Mesh Patterns
Knotted vs Knotless Netting
Best Color for UV Resistance
Netting Materials
Performance characteristics of a quality batting cage netting is something that can handle the repeated impact from hard-hit balls as well as resist against abrasion (note: abrasion occurs when a spinning ball impacts the netting).
It is generally understood that more expensive nets materials will have additives that will provide higher resistance against water and UV rays.
We will review four most popular types of thread materials:
Polyethylene (HDPE, Poly)
KVX200
Nylon
Dyneema / Spectra
Polyethylene
Polyethylene is also known as Polyethylene Naphthalate, poly or High-Density Polyethylene (HDPE). Poly is generally the least expensive material our of all four materials so it is more prevalent among lower priced batting cage nets.
HDPE consists of various plastic materials where it has traditionally been used in applications involving resistance to moisture or chemicals.
Poly has a large, strength to density ratio profile which means that it floats. That characteristic makes it suitable to naturally not absorb water.
High-Density Polyethylene is an acceptable netting material as long as the netting rope thickness is greater than #21 and it not made from recycled plastic materials.
The material is not resistant to sunlight so it requires a separate UV treatment to make it last longer.
Advantages
Lightweight
More resistant to heat/chemicals than nylon
Resistant to shrinkage and wrinkle
Waterproof
Cheap
Disadvantages
Not resistant to UV and moisture
Indoor application is preferable
Short lifespan if used outside
KVX200
Invented by chemists at Freform Manufacturing Inc (FMI), KVX200 came on the market in 2006.
KVX200 premium netting is a commercial polymer that is also used in bullet proof vests.
This material is strong, lightweight, does not absorb water and resists breakdown in direct sunlight due to UV inhibitors being integrated during the manufacturing process.
While KVX200 may be stronger than polyethylene/polyester, it does not have the same break strength of nylon so KVX200 is priced between polyethylene and nylon categories.
Advantages
Lightweight
Resistant to shrinkage and wrinkle
Waterproof
Stronger than HDPE/Polyethylene
Disadvantages
More expensive than HDPE/Polyethylene
Not naturally resistant to UV and moisture
Nylon
Nylon is synthetic (a.k.a. man made) which starts out as liquid, then mechanically spun and dried into individual fibers. Overall, nylon is stiffer and stronger than HDPE.
It is often found in tough environment like ballistic nylon in tactical vests or nylon pack-cloth due to it being exceptionally strong and highly abrasion resistant.
Unlike polyester or HDPE made from various plastic materials, nylon is made from polyamide, a super-long, heavy molecules built up of short, endlessly repeating sections of molecules (think of a heavy chain link).
Nylon is not actually one, single substance but the name given to a whole family of very similar materials called polyamide invented by the DuPont Corporation in the late 1930's.
Polyamide absorbs chemicals during the process so that UV protection and other types of weather treatment chemicals are able to be impregnated into the material itself rather than just being applied on the surface.
Overall, nylon is lightweight, strong ,good resistance abrasion, resists shrinkage and waterproof, resulting in excellent durability.
Advantages
Lightweight
Resistant to shrinkage and wrinkle
Waterproof
Stronger than HDPE/Polyethylene
Disadvantages
More expensive than KVX2000 and HDPE/Polyethylene
Dyneema / Spectra
Dyneema was accidentally discovered by a Royal DSM chemist Dr. Albert Pennings whike he was doing research into polyethylene.
Spectra (pseudo mark Spectral) is synthetic fiber invented by a Honeywell chemist Laura Hammel.
As far as Dyneema and Spectra are concerned, you just need to know that these synthetic fibers are one of the world's strongest and light materials made of Ultra-High Molecular Weight Polyethylene fibers.
Both are known for their high strength and durability.
The difference between Dyneema and Spectra is that Dyneema has a slightly different molecular structure than Spectra, providing Dyneema with higher breaking strength in larger diameter sizes.
DSM's product also has slightly better wear characteristics in heavy use areas with higher elasticity than Honeywell's Spectra.
In batting cage applications, performance characteristics for both are excellent and are virtually indistinguishable.
In contrast to a well-known Kevlar brand, Dyneema/Spectra are twice as strong as Kevlar when compared to the strength of steel while having 30% less materials.
Unfortunately, both fibers are about 10 times more expensive than Nylon so they only used in highest commercial applications (i.e. Major League Baseball teams).
Advantages
Ultra-lightweight
Resistant to twisting
Stronger than Kevlar
Disadvantages
Significantly more expensive than others
No commonly used in Little League/High School/College
Netting strands can be too thin shortening the life span
The Verdict on Netting Materials
I initially thought all polyethylene nettings were inferior but I've come to realize that there some well made poly nettings. The downside to such well made nettings is that cost difference between a poly vs. nylon nettings go away as you move up the quality ladder with poly netting.
KVX200 is an interesting solution that combines good hydrophobic qualities of poly nettings and nylon's break strength.
As far as I can tell, KVX200 seems to be exclusively distributed by Batting Cages Inc (BCI) so the product has a solid manufacturer/distributor backing. Unfortunately, KLX200 is relatively new so I am unsure about it's long term durability.
Nylon on the hand has been used widely throughout baseball and softball environment. Nylon is very popular due to fact that it provids great break strength and stretching ability and now with extruded nylon fibers containing UV inhibitor, it stands to reason that the popularity will continue to grow.
Twine Sizes
Twine sizes or combined weight netting material is another very important variable when determing the initial breakstrength and long term breakstrength.
The thickness (i.e. gauge) of a twine thread is indicated by a number where higher numbers indicate thicker twine threads for better quality and increased durability.
The most important component of high quality netting is the twine sizes. The thickness of a twine thread is indicated by a number which means higher numbers indicate thicker twine threads for better quality and increased durability.
#18 netting – lowest grade; will last few years with light use
#24 netting – medium grade; will last 4-5 years with moderate use
#36 netting – high grade; will last 4-6 years with moderate to heavy use
Anything beyond #42 twinze gauge would be applicable in commercial settings so it would be an overkill for home use.
Perimeter Net Stitching to Bone Ropes
Rather than simply sewing a border rope to a piece of netting, certain high quality manufacturers (i.e. BCI) weave the rope in and out through the meshes before sewing the rope to the net. This step ensures that even of a stitch breakage, the batting cage would stay together.
Other manufacturers simply lay the rope along the netting and stich the rope to the net every second or third mesh which puts extra stress on the attachment points and weakens the batting cage.
If your cage is assembled with light gauge twine, or the stitching is poorly done, even the best netting can separate from the bone ropes.
Inexpensive netting manufacturers will cut corners by either simply laying the rope along the netting panel and/or only stitch the rope to the net every second or third mesh.
These poor manufacturing processes put extra stress on the attachment points and weaken the batting cage which may ultiamtely result in net fraying or worse, unraveling.
High quality batting cage nets usually come with full perimeter ropes (1/2″ to 3/4″ thick with heavy duty stitching) on the top, bottom and vertical corners.
These netting manufacturers also take the extra time to weave the thick rope borders on the top, the bottom and the vertical corners, in an out through the meshes before sewing the it to the net. This way, if a stitch were to break, the batting cage would stay together and not unravel.
Your should also look for a netting that comes with an extra rib line that runs down the middle of the top panel from front to back. This provides an extra support point as well as ensuring that your net is held high without sagging or drooping.
All these rib or "bone" support lines should come with "tails" (i.e. extended by 6ft-8ft) to provide hook attachment points to the frame.
Edging types
Construction – Edging Types
Being able to recognize these batting cage edging types will help you identify inferior vs high quality nettings:
No Edging – square or diamond netting is pinched in hanging spots or draped over guide lines
Regular Rope Border – Inexpensive (thin) ropes are weaved in and out of mesh pattern and sewn in the corners
Sewn Rope Border – Weaved in and out of each mesh, sewn in the corners & the sewn every mesh.
Posi-lock stiched Rope Border – tightly weaved cord around the rope perimeters in a positive locking pattern; provides the strongest possible bond between the netting and the rope
Lead Core rope Bottom – Lead Core rope is sewn to the bottom rope border of the net to keep the net weighed down against balls hitting the net or wind. The top and two sides of the net will have regular rope borders.
Vinyl Border with Grommets – 18 ounce vinyl is sewn onto the net around the perimeter of the net and then grommets are punched into the vinyl every 18 inches
Vinyl and Lead Core Rope Bottom – Vinyl and Lead Core Rope Bottom: Lead core rope is put inside an 18 ounce vinyl piece that is sewn onto the net bottom to keep the net from flying up in the wind or from balls hitting into the net. The top and two sides will have regular rope borders
Square Hung vs. Diamond Hung Patterns
Square hung netting is the most common pattern used in the industry because it is usually easier to install. Because square mesh lines up in a straight edge to bordering ropes, the mesh integration is much stronger.
They will also hang straighter than diamond netting, which naturally conform to the rectangular shape of the batting cage with clean straight lines.
Diamond in the rough?
Diamond cage netting has the advantage of spreading the shock of the ball across several rows of netting opposed to square netting which absorbs the impact of the ball in one single spot.
Additionally, the diamond mesh pattern tends to be cheaper due to less waste but it causes problems like uneven hanging with poor seams and weaker integration to border ropes.
Knotted vs. Knotless
Netting comes with and without a knot at the twine intersections.
Differences between knotted and knotless style is a controversial issue since well-constructed knotted net with great crossover stitching will out last most knotless nets.
Conversely, a well-constructed knotless net will outlast many knotted nets with weak crossover stiching.
Knotted
The knotted netting has been pretty much the industry the standard in high quality batting cages.
The knotted net is usually found in a square pattern where the entire twine is looped around the adjoining twine to make a knot.
The knots of a knotted net are points of wear; however, they are also extremely durable, giving it superior mesh strength.
Knotless
Knotless batting cage is most often a mesh or braided style and most often a diamond pattern.
The pattern is created by some of the fibers crossing over together to make the mesh.
Nettings with knotless pattern do not have points of accelerated wear but the strength is considered to be weaker.
The Verdict on Knotted vs. Knotless
Since most knotted nets come in square hung pattern, go with the knotted feature.
Best Color for UV Resistance
Ever wonder why almost all outdoor batting cages come only in black but many indoor batting cages come in a variety of color like green, white, black and others?
At young age, we learned that lighter colors reflect more sunlight which kept us cool. In contrast, when we wore darker clothing, we tended to get hot.
So how does this factor into outdoor batting cages?
In order to answer that we question, first we need to review what UV light is and how it negatively effects polymers.
Ultra-Violet Radiation 101
Ultra Violet (UV) light is part of the elctromagnetic spectrum. It is at the higher end of the energy spectrum compared to visible light as seen below.
UV radiation is split into three different types as described in the table below:
All types of UV (but especially UV-C) can cause a chemical reaction within the polymer structure, leading to material degradation.
The main visible effects are a chalky appearance and/or color shift on the surface of the material. The resulting compoent surface then becomes brittle and stiff. Although UV rays are unlikely to penetrate beyond 0.5mm, stresses induced by the highly brittle nature on the outside may well lead to a component failure.
Avoiding UV Degradation
There are many ways to avoid UV degradation in thermoplastics, such as using stabilizers, absorbers or blockers. For the majority of outdoor batting cage applications, the simple addition of carbon black at around a 2% level will provide the protection for the netting structure by blocking the photochemical process.
Batting cage net manufacturers typically use stabilizer additives added to the polymer to be produced as a special grade for UV protection which cannot be washed out unlike surface coated netting products.
The Verdict on the batting cage net color
While light colors are resistant to gathering heat, darker colors provide better UV protection from the sun by converting damaging rays into heat.
This why almost 100% of all outdoor batting cage nets are made with black threads due to excellent choice for sunblocking power.
PS – baseballs can be seen easiest with black netting!
Buy or Build Your Own Batting Cage?
The decision to buy or custom build your backyard batting cage depends on your available time, building skills your budget.
Obviously buying a pre-made batting cage is the fastest way to go but if you have the time and space, you may want to dabble at building your own to suit your needs. For details on how I built my backyard batting cage, read this post at AllThumbsDIY).
General Size Recommendations for Each Age Group
If your child is just starting to play baseball or softball, there is no need to spend money on a full-sized cage.
On the contrary, if your child is 8 or 9 years old and love playing baseball or softball, you may want to consider up-sizing the cage so that it can continue to serve your child's needs into high school years.
1 to 6 years old – Backstop pop-up nets
6 to 8 years old – 36ft hitting cage
9 to 11 years old (9u-11u) – 55ft batting cage
12 years or older (12U+) – 70ft batting cage
Backstop Net Recommendations
Having the right net to practice batting is key to developing proper batting mechanics. You will also need a high quality batting tee along with a good bat and baseballs.
Hitting backstop nets usually come in 5×5 or 7×7 or larger sizes. Although the backstop hitting net will be used primarily for younger children, you can continue to use it as they get older so I recommend getting the 7×7 size.
Bownet 7′ x 7′ Bing Mouth X Portable Sock Net for Baseball and Softball
Bownet is the original inventor of the sock nets. Used widely by high school and college teams, Bownet Big Mouth (check price here) comes with heavier gauge steel base which will stay balanced and withstand the hardest hits.
The entire construction has been revised to reduced the number of parts which means easier assembly and disassembly (but still comes with stakes to secure it to the ground during windy days) which means one person can easily setup and break it down in minutes.
The side vertical frames are made of a touch polymer infused with glass fibers for extra strength and durability.
This net is heavy duty so you can use it as a pitching backstop (live or machine pitch) for older kids. You will need to separately purchase an attachable strike zone target.
Bownet products come with 1 year limited warranty but you can extend the warranty by another year for FREE if you register within 30 days of your purchase (see here for more info).
Rukket 7×7 Baseball & Softball Net Backstop Screen
I have owned this Rukket backstop for 3 years now and I have had zero issues with it (checkout the latest price on Rukket 7×7 here)
The 7-ply knotless netting is extra thick and comes with a heavy duty frame which adds rigidity and weight for greater stability when batted into the net.
Rukket 7×7 backstop does come with 4 anchors that you can use to secure it to the ground. Like Bownet, you need to purchase a strike zone attachment separately
Overall, it is super easy to assembly and disassemble (maybe 2 minutes?). It has taken 3 years abuse and the netting, framing and the storage bag are all in excellent shape!
Rukket comes with a 100% lifetime warranty. Checkout the latest price on Rukket 7×7 here
Backstop Net Recommendations
Please note that not all batting cages come support frames.
However, backyard batting cages reviewed in this section are complete kits so no other parts are necessary.
Heater Sports Baseball and Softball Cages
Heater Sports (www.heatersports.com) makes training aids for baseball, softball, cricket and golf. They are mainly known for Heater Sports Pitching Machines which is marketed to beginner/intermediate players.
HeaterSports's proprietary best backyard batting cage setup uses a more popular half-dome design which uses flexible tubing as its skeletal support structure.
Cages come in a variety of lengths to suit your specific spacing requirement:
PowerAlley Batting Cages come in 12ft and 22ft (Model BH399 – link https://amzn.to/2KacxyO) versions
PowerAlley Xtender Batting cages come in 24ft, 30ft, 36ft, 48ft, 54ft, 60ft, 66ft and 72ft versions
The 72' Xtender version (model XT799, $999) is actually made from joining two, Heater Xtender 36' cages together so when you order the item, they will ship you two boxes, each containing a 36' cage.
Smaller PowerAlley Home Run Batting cages are meant for young player (ages 4+) to work off of a batting tee or mini liteball pitching machines.
Which Heater Cage?
Of all these choices, I recommend spending a bit more to purchase one of the larger models (22ft+) so that you can make it longer down the road as your child gets older.
Heater Sports' Xtender models all come with same steel side support poles and 1" polypropylene netting meant to be used for real baseballs and softballs.
The installed foot print for the 72ft long model is 12ft wide X 10ft high X 72ft length but you will have to add approximately 6-8 feet on all sides to account for bracing ropes.
Primary framing material consists of ½" solid fiberglass tubes, secured to the ground via inverted "Y" metal stakes.
Both ends of the "tunnel" are secured by 4 support (guide) nylon ropes attached to the ground stakes.
Depending on the model, the size of squares range anywhere from ¾" to 1.5" and the material is made either from #18 polyethylene thread.
#18 HDPE thread is on the thin side so you should not use any pitching machines (i.e. ATEC, Hack Attack Jr., etc.) wit this setup.
Caveats
You should also limit the age to 10 years or younger; if you have a bigger sized 13u kids, baseballs can potentially got right through the net.
For indoor application, you will need to 5 gallon buckets and fill them with sands/concrete to use as pole footing as well as few sandbags to hold down the support wire stakes.
This setup is recommended only for:
younger players
families with limited space/budget
If you are looking for something that you can take down with relative ease, this model may be a good fit.
Just remember because netting squares are small, it catches wind quite a bit so it is likely to shift or tip over even in moderate wind.
You DEFINITELY DO NOT want to leave this out during a snow storm.
Here is Heater Sports's warranty statement, warning you about leaving it outside during inclement weather:
DO NOT LEAVE THE POWERALLEY CAGE ASSEMBLED DURING STRONG WIND, SNOW, SLEET, OR ICE STORMS. THE POWERALLEY IS NOT DESIGNED TO WITHSTAND EXTREME WEATHER CONDITIONS AND DAMAGE TO THE FIBERGLASS FRAMES CAUSED BY EXTREME WEATHER MAY NOT BECOVERED IN THE MANUFACTURERS WARRANTY (www.heatersports.com)
Although heater Sports' 30-day money back guarantee is decent, you can expect to take a large hit on return shipping charges so make sure you want it.
Verdict on Heater Sports Home Run or Xtender Batting Cages
I would not exactly classify Heater Sports batting cage as one of the best backyard batting cage options in the market.
But if you have a limited space and the batting cage will primarily be used for younger player (say 4-9 years), I think Heater Sports cage will be sufficient.
The netting and support poles will not be strong enough to last laser hard hit baseballs or softball by older players.
Just make sure to purchase one of the larger cages (22ft+) and make sure to take it down during inclement weather days (i.e. high wind, snow, freezing rain, etc.).
[maxbutton id="4″]
[maxbutton id="1″]
Reference Links for Home Run Batting Cage (12ft)
Again, please note that this product is NOT MEANT for regular baseball or softball use!!
Model #: HRBC99
Size: 12ft L x 12ft W x 10ft H
Netting Hole Size: 1 ¼"
Netting Material: Nylon
Poles: All Fiberglass
Location Type: Indoor/outdoor use
Options: Built-in opening Heater Sports Mini and Light Pitching Machine; additional cage can be added to increase the length
Manufacturer Link: https://www.heatersports.com/responsive/product_details.php?id=HRBC99&c=Batting%20Cages
Product Manual Link: https://www.heatersports.com/pdf/HomeRun-HRBC99-New.pdf
Amazon link: https://amzn.to/33FRtYA
Reference Links for Xtender Batting Cage (36ft)
Model #: XT399
Size: 36ft L x 12ft W x 10ft H
Netting Hole Size: 1"
Netting Material: Polypropylene
Poles: Steel tubing on sides; middle is flexible fiberglass rods
Location Type: Indoor/outdoor use
Options: Built-in harness for Heater Sports Pitching Machine; additional cage can be added to increase the length
Manufacturer Link: https://www.heatersports.com/responsive/product_details.php?id=XT399&c=catagorie
Product Manual Link: https://www.heatersports.com/pdf/Xtender36-XTXT399.pdf
Amazon – https://amzn.to/345XjTs
Reference Links for Xtender Batting Cage (72ft)
other than length, specs for the Xtender 72ft batting cage model is identical to Xtender 36ft model
Model #: XT799
Size: 72ft L x 12ft W x 10ft H
Manufacturer Link: https://www.heatersports.com/responsive/product_details.php?id=XT799
Product Manual Link: https://www.heatersports.com/pdf/Xtender36-XTXT399.pdf
[maxbutton id="4″]
[maxbutton id="1″]
Fortress Batting Cages
Net World Sports (www.networldsports.com) makes many sports products for activities like soccer, baseball, football, etc. (basically any sport that requires a netting of some sort).
It offers two very popular hitting cages (in complete kits) for residential light-duty commercial use:
Fortress Trapezoid
Fortress Ultimate
The company is based out of UK so the call center and manufacturing is based out of there. Ordering and customer service is handled by their UK call center but any returns are sent to a US location.
Fortress Trapezoid Batting Cage (complete package)
Trapezoid design allows the use of thinner, 32mm or 1 ¼" diameter power coated steel support pipes. It is designed to be free standing with no need to anchor it to the ground.
This model comes in six distinct lengths:
35ft in length, internally hung net (35ft Long x 10ft Wide at top x 10ft Wide at bottom x 10ft Height)
35ft in length, or externally hung net (35ft Long x 10ft Wide at top x 14ft Wide at bottom x 10ft Height)
55ft in length, internally hung net (55ft Long x 10ft Wide at top x 10ft Wide at bottom x 10ft Height)
55ft in length, externally hung net (55ft Long x 10ft Wide at top x 14ft Wide at bottom x 10ft Height)
70ft in length, internally hung net (70ft Long x 10ft Wide at top x 10ft Wide at bottom x 10ft Height)
70ft in length, or external hung net (70ft Long x 10ft Wide at top x 14ft Wide at bottom x 10ft Height)
The price for both internally hung and externally hung nets are the same.
However, please remember that although externally hung net will provide you with more space (14ft wide base vs 10ft wide base for internally hung net), will expose all support poles to baseball or softball contacts so I recommend that you wrap them in foam padding (LINK HERE).
If you have an older, stronger player (13+), you may want to go with more traditional box design (i.e. internally hung net) to protect those poles from hard hit baseballs, though this method will not prevent the top poles from being hit.
Anchor or Not?
Because trapezoidal design has a wider base, the manufacturer says it does not have to be anchor to the ground.
But that doesn't mean certain framing members can't shift during windy days, possible putting extra tensions on the net.
Thus, I would consider securing the frame to the ground by attaching via support ropes and stakes.
If you want to make it really strong, you can pour 6" long concrete piers with a metal sleeve jacket embedded in it (refer to the footing section at the beginning of this article).
You can then insert Fortress' framing pipes into the sleeve (note – you may have to pour deeper footings if your ground freezes during winter to prevent frost heave).
Tips
In addition, you may also want to buy some long zip ties (LINK HERE) and tie the netting to poles about 6 feet off the ground to minimize the net being blown inside the cage during windy days.
The netting itself is a commercial grade #42 gauge along with braided rope edges so it very high quality and you can expect it to last longer than support frames (but does not come with an opening).
Everything you need is included; however, you may want to purchase some zip ties to attach netting to support frames about 6 feet off the ground.
Although the manufacturer says it can be left outside all year around, I highly suggest that it gets taken down during winter (Dec – March)
NWS inc. provides 1 year warranty for the support frames and 5 years warranty for the netting.
Reference Links for Fortress Trapezoid Batting Cage
35ft Fortress Trapezoid – https://nwscdn.com/media/wysiwyg/instructions/baseball/NWS_FORTRESS_TRAPEZOID_35_BATTING_CAGE.pdf
55ft Fortress Trapezoid – https://nwscdn.com/media/wysiwyg/instructions/baseball/NWS_FORTRESS_TRAPEZOID_55_BATTING_CAGE.pdf
75ft Fortress Trapezoid – https://nwscdn.com/media/wysiwyg/instructions/baseball/NWS_FORTRESS_TRAPEZOID_70_BATTING_CAGE.pdf
Manufacturer Link – https://www.networldsports.com/baseball/baseball-batting-cages/complete-batting-cage-kits/fortress-trapezoid-baseball-batting-cage-complete-package.html
[maxbutton id="4″]
[maxbutton id="1″]
Fortress Ultimate Baseball Batting Cages
Like Fortress Trapezoid, the Ultimate comes in four different sizes:
20ft Long x 10ft Wide x 10ft High (4 poles, netting has 3 sides; 1 side is open ended)
35ft (6 poles), 55ft (8 poles)
70ft (10 poles) lengths (they are all "internally" hung nets)
All kits includes everything you need to get you up and running fast (i.e. poles, stakes, netting, guy lines, etc.)
Unlike its trapezoid cousin, the Ultimate design relies on poles and guy lines to form the rectangular shape.
Please note that 20ft version only has 3 sides (i.e. one side is open).
What's Included
The 70 foot kit (70 feet length x 10 feet wide x 9 feet high) comes with:
10 poles (each pole consists of 3 short poles plus integrated ground stake) made from 1½" galvanized, powder coated black steel tubes
Features #42 netting with UV stabilization and 100% rot proof
Square hung mesh pattern with 1.8" squares (i.e. not suitable for golf balls)
One piece square hung netting with roof sewn in for quick assembly
PVC coated steel guy lines to control sagging
Ten, 10" steel pegs included
Wire tension kit (includes wire rope grips, carabiner snap hooks, 5mm steel eye plates, straining hooks and eyes, a wire cutter and steel wire rope) designed to hand drop netting from above
Ground support cables are also included
5 year warranty on the net and 1 year warranty on the poles
According to the instruction, internal guy lines are designed to provide netting lift across support poles.
Installation Tips
I highly recommend that you purchase extra guy lines to form an "X" between four posts to prevent net from sagging (very annoying if you are doing warm up throws inside).
Each pole consists of 3 sections and the bottom section comes with an integrated "T" stake that you drive approximately 6 inches into the ground.
NOTE: The wall thickness for these steel tubes is fairly thin so expect to replace them in about 3-4 years if you leave it outdoors year round.
Due to this shallow depth, you are required to use nylon ropes and stakes (both are included in the kit) to stabilize the structure.
Foretress Batting Cage Net
Fortress Ultimate also comes with highly durable #42 gauge netting in one contiguous piece.
#42 cage in one piece tends to be bit heavy and cumbersome to move around so you may need some extra help.
You should also have some ropes (or long velcro straps) on hand to bundle the cage in sections for better control during hanging.
The heavy netting is designed for high impact and abrasion so older kids (14u+) can certainly use this product.
This particular model requires the ground to be fairly even to minimize the risk of uneven tensions across netting.
Outdoor – Durability
As far as leaving it up all year around, most people seem to agree that it would be okay.
However, unless you live in a temperate, non-snowy area, I would take it down around December and put it back up in late March to minimize damage during harsh winter.
If you live in a particularly windy area, I would spent the extra money to install 12" long concrete footings.
For those of you planning to use your pitching machine, I recommend that you place the pitching machine INSIDE the cage, behind an L-screen.
I do NOT recommend cutting a hole in the netting as that would void your 5 year warranty.
Buy Big or Go Home
Lastly, it is CHEAPER to purchase the 70ft version and not use the entire length (just fold over extra netting on top) rather than buying two, 32ft cages.
Reference Links for Fortress Ultimate batting Cage
Instruction manual – https://nwscdn.com/media/wysiwyg/instructions/baseball/Ultimatepolesassemblyinstructions.pdf
[maxbutton id="4″]
[maxbutton id="1″]
JUGS Baseball Batting Cage
We are not going to review JUGS products in this post because their:
intended target audience is mainly commercial
products are very expensive
Batting Cage Accessories and Other Considerations
L screen
Batting Tee
Batting Mat
Wood bat
Pitching machine
Net patching
Net lowering system
Off season storage
Camera Tripod
Dummy batter
Backstop
My Very own Custom Built Batting Cage
At end of my extensive evaluation, I decided to go ahead a build my own due to me getting an excellent deal on a used 70ft netting on Craigslist.
In addition, my backyard spot where I wanted to place my batting cage was rather uneven so I thought customizing the build would provide me with a less headache.
I posted a detailed step-by-step instruction at DIY site, AllthumbsDIY.com/build-my-own-backyard-batting-cage so grab a cup of coffee and check it out.
[maxbutton id="4″]
[maxbutton id="1″]
General Reference Links