There are real and subtle differences between age-specific, R8U, R10U and R12U baseballs
Baseballs geared towards older kids are harder so it travels faster
Intro
Have you wondered if all youth baseballs are pretty much the same and that manufacturers are taking advantage of parents and coaches by marketing them differently at inflated prices?
I mean, they are all supposed to be 9 inches in circumference and weigh around 5 ounces, right?
I can't tell you for 100% certainty since there are so many brands and models but based on my experience, I can tell you that at least for Rawlings youth baseballs, there are real differences.
Table of Contents
Rawlings 8-and-under (8U) baseballs
Rawlings markets two different models for 8-and-under players:
Rawlings R8U
Rawlings OLB3
Both baseballs have a synthetic cover so the balls tend to feel slick or plasticky.
Because most 8 year old and younger players tend to have smaller hands, R8U and OLB3 baseball's circumference is slightly less than 9 inches (8.75 inches).
Rawlings states that its R8U and OLB baseballs are meant for recreational and practice use only. If you want to know which "game" balls are used for 8U, 10U and 12U teams, check out most Different Types of Baseballs for Different Ages post.
Peculiarity of Age Brackets
In recreational baseball, some leagues assign kids in two or three different grades to a single team. For example, Cal Ripken Minors (under the Babe Ruth umbrella) will mix third and fourth graders to form each team.

In competitive baseball (such as tournament and travel baseball), each team competes at a specific age level (ex. 8U, 9U, 10U, etc.). The exception is for kids whose date of birth falls on a cutoff month.

For example, assume that today is March 1, 2023 and your travel team's age cutoff is May. If your child's birthday is anytime between May 1 to May 31, 2012, and the cutoff month for your travel team is May, s/he can either play at their age at 11U or play down at 10U. For more information on age eligibility requirements, please read Age Calculator for Travel and Rec Teams post.
Rawlings R8U baseball
Rawlings R8U baseball comes in three parts:
Synthetic cover – some balls do not indicate if its synthetic or leather; in those cases, it's fairly safe to assume that the cover is synthetic
Thread – used as a binding layer between cover and ball
Core ball – mixture of crushed cork and ground rubber (glued together)
On average a single Rawlings R8U baseball weighs consistently at 5 ounces with the core ball weighing at 4.4 ounces.
There is no separate rubber "pill" found in "normal" baseballs.
Rawlings OLB3 baseball
Rawlings OLB3 baseball is almost identical to Rawlings R8U baseball except:
The circumference is very close to 9 inches and most balls weigh right around 5 to 5.1 ounces.
Lastly, Rawlings markets baseballs for 8-and-under balls players under "R8U" or "OLB3" monikers.
Rawlings OLB also sports a synthetic cover, but unlike R8U, it has:
OLB3's synthetic cover is slightly thicker so it has higher seams
Core ball contains larger rubber chunks
Core ball is more dense (better adhesive?)
Lastly, unlike R8U baseballs, OLB3's cover seems to not last long.
The Bottom Line
If your child is just moving up from tee ball, I would suggest OLB3 baseballs since they are slightly smaller than regular baseballs.
If your child is more experienced or have larger hands, I would skip the R8U and move up to Rawlings CROLB baseballs (read below)
Rawlings 10U Baseballs
Rawlings markets two different models for 10-and-under players:
Rawlings R10U
Rawlings CROLB
Quite frankly, there is no difference between these two baseballs.
Both baseballs come with a leather cover*, a thin layer of thread (used as a binding layer) and a composite ball (mixture of rubber and cork; seems to be identical to R8U core ball).
*based on look and feel, I am fairly certain this is a split leather (lower grade leather that has been plated and stamped with a leather pattern).
Rawlings R8U and CROLB baseballs are perfectly fine for most 10 year old and under players but some balls can get out of shape if hit hard (as may be the case when coaches are hitting long balls during practice):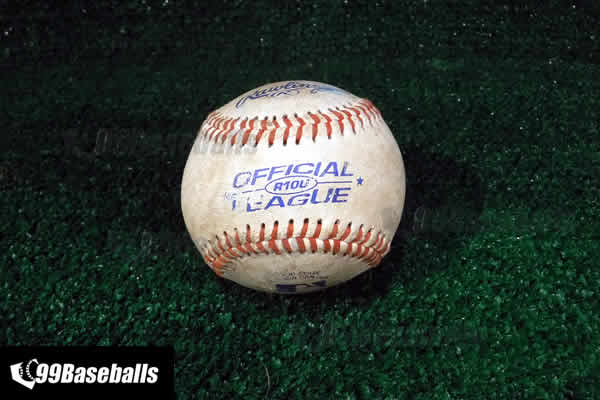 The Bottom Line
I DO NOT consider either the Rawlings R10U or Rawlings CROLB to be game balls but they are good practice balls.
The cover may be leather but it seems to have some sort of glossy layer on top which makes the balls feel more like R8U or OLB3 baseballs.
For 9 year old players, either balls will be fine for practice but for 10 year old players, especially at a more competitive level, you may want to skip these balls a go with Wilson A1035 batting practice baseballs.
Rawlings 12U Baseballs
One major difference from baseballs used in younger group is that most brands for 12u teams come with wound yarn. There are 4 parts:
Leather cover
Layer of fine thread
Wound yarn
Cork/rubber ball
Rawlings markets two different models for 12-and-under players:
Rawlings R12U
Rawlings ROLB2
Much like Rawlings R10U and CROLB baseballs being similar, outside appearance/feel and inside of R12U and ROLB2 baseballs are identical:
The circumference of a core ball both measure at 6.25″ inches and weigh at 2.2 ounces. Unlike the cork/rubber mixture balls for younger players, these core balls contains 50/50 mix of rubber and cork bits in a compact ball.
Once again, these are considered by many to be practice balls only.
So how do these compare to game balls? If we were to compare solely based on recommended age groups, a lost of 12u tournament teams use either Rawlings RCAL1 or MacGregor 74CAL baseballs (see below pix)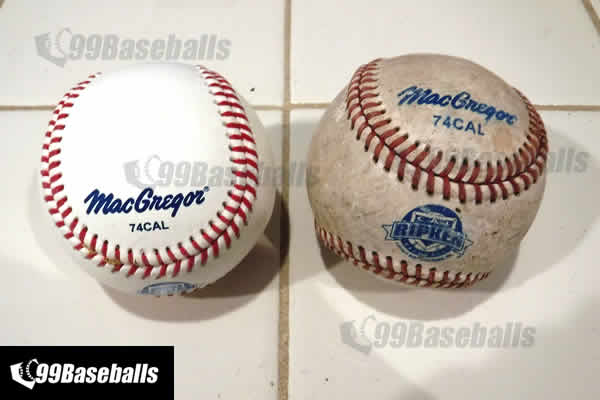 You can see that MacGregor has a thicker yarn winding with a smaller "pill" which makes these balls jump off of a bat lot faster than Rawlings R12U/ROLB2 baseballs.
Takeaways
Most leagues do not provide managers and coaches with a bucket of practice baseballs so I understand the need to balance your needs vs wants when it comes to buying baseballs.
Hopefully, I was able to provide you with some valuable information that you can use when making a purchase.
As always, thank you for volunteering!
If you liked this post, please leave a comment below.