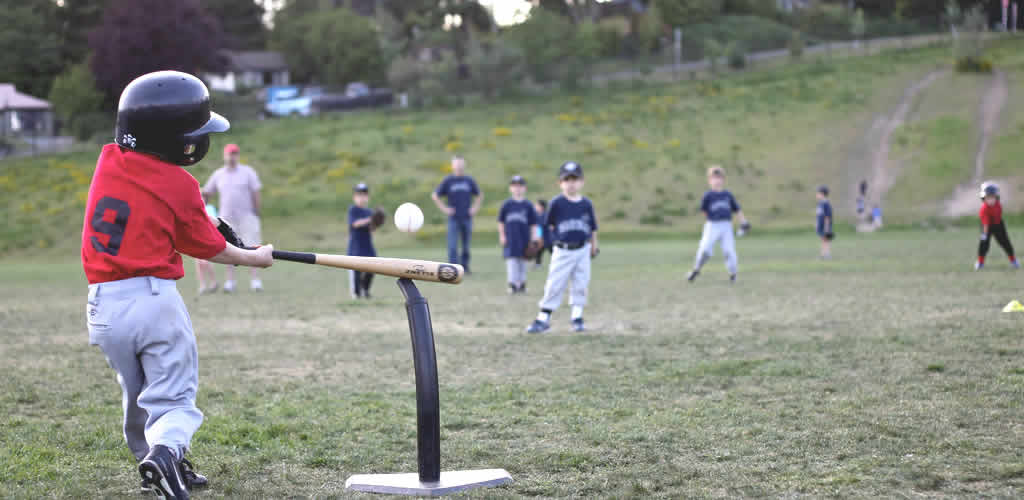 A classic batting tee has been around forever. It isn't flashy, modern or difficult to use. But after baseballs, gloves and bats, batting tees are the most widely used baseball or softball equipment today.
From T-ball youth players to Major League players, batting tees have been used to establish proper hitting mechanics the proper angles in order to hit the ball harder and farther.
Hitting baseballs or softballs off a tee is also great way to break in new bats as many youth composite bats need around two hundred or so hits to "break in" the carbon fibers. Also, consistently hitting the sweet spot allows a batter to get a good feel for their bat for more doubles, triples and home runs!
But, before rushing out and grabbing a first batting tee you can find, I urge you should first read this post from beginning to end. I promise you will walk away armed with knowledge to make the correct buying choice for your child.
TIP 1: The portable batting tees (also known as collapsible batting tees) are great if you are a coach and you need bring it to practice or at away games. I do not recommend these portable batting tees for home use because they are very light and even if you hit the ball cleanly off the tee, it tends to shift or get knocked down.
TIP 2: If your backyard space is tight, hitting actual baseballs off a tee is probably not a good idea. Instead, consider using limited flight balls with baseball backstop nets
Main Table of Contents
What is a batting tee (a.k.a. hitting tee)?
Batting tee is a simple baseball (or softball) training tool that allows hitters to practice hitting without a pitcher.
By removing the timing variable from a thrown ball, a batter can slow down the hitting process and focus on their batting mechanics. Once proper swing mechanics are established, the repetitive nature of hitting off a tee reinforces their muscle memory so that in a game situation, they instantly react from a thrown ball without thinking.
In the early days, players used a knotted hanging heavy rope to practice batting (especially indoors when it was cold outside).
In his book, former MLB player named Charlie Metro claimed to have developed the now more familiar batting tee by using pieces of heavy rubber hoses that were lying around when he was working at a coal mine during off-season.
An early iteration of a batting tee consisted of a rubber stand where a baseball (or softball) was placed on top of the ball rest so that a player can swing at it.
Most common batting tees consist of three parts:
Base
Stem (a.k.a. post)
Ball Holder (a.k.a. ball rest)
Today, batting tees come in a variety of designs like adjustable post (to raise or lower the ball height) with different types of materials, weight+adjustable base (to practice hitting different pitch locations) as well as ball holders constructed from high-grade rubber or brush.
[maxbutton id="1″ url="#how-to-choose-the-best-batting-tee-for-your-child-table-of-contents"]
Learning to Hit a Baseball or Softball
Although hitting a thrown ball is a great way to learn to follow the ball with correct timing and decision-making, it is a terrible way to learn proper batting mechanics.
Here's a helpful way to understand where the batting tee fits in the overall hitting progression methods used by many baseball and softball teams:
Batting Tee – work on hitting mechanics with varying ball position; important to ensure that the batter learns correct plate coverage
Soft toss – ball is thrown underhand to a batter; most common method is a short toss which is done with a coach sitting 5-6 feet away on a bucket at a 45 degree angle to the batter; a long soft toss is done directly in front of a batter about 20-25 feet away with a portable screen to protect the "pitcher"
Pitching Machine – forces a batter to incorporate hand-eye coordination, swing mechanics with timing; depending on the machine, you can add a variety of pitches and speed
Coach Pitch – You can use two methods; a coach stands about 25 feet away behind a screen; with body squared to the home plate, he throws slow to medium pitches to a batter; this step is crucial for the batter to learn the focus on the pitcher's hand+ball; more advanced method is a coach standing 30-35 feet away (still behind an L-screen) but this time, goes through a full pitching motion (i.e. leg kick)
Peer pitching (full speed) – game situation to implement swing mechanics, hand-eye coordination and timing together
Once a player reaches the full speed pitching, there is simply no time to think about their proper batting mechanics. What separates elite players from novice players is how well they focus on tracking the pitch and instinctively to hit the ball.
[maxbutton id="1″ url="#how-to-choose-the-best-batting-tee-for-your-child-table-of-contents"]
Why Do I Need a Hitting Tee?
Tony Gwynn was one of the best hitters to every play baseball. The left-handed hitting Gwynn won eight batting titles in his career, tied for the most in National League (NL) history.
He is considered one of the best and most consistent hitters in baseball history with .338 career batting average, never hitting below .309 in any full season.
He has been interviewed numerous times about what he used to do to work on his swing and on nearly ever occasion, Gwynn stated that using a tee has helped him more than any other hitting drill!
If a professional baseball players train with batting tees everyday, don't you think your child do the same?
There are many benefits of hitting off a tees:
You can take a lot of swings in a short period of time
You can take swings in a confined space (i.e. garage with netting) or in a backyard without any distractions
You will hit the ball harder by getting stronger from taking repetitive swings everyday
You can focus on whatever weak issues you most need to work on by keeping the ball at a consistent spot
Conversely, you can also learn to hit balls in different contact points until it becomes second nature. For example, if you have trouble hitting an inside pitches, low outside pitch, you can position the tee inside the plate with various heights and practice hitting at that particular contact point over and over
Drawbacks of Hitting Off a Tee (Unsupervised)
When working with a young player, you should NOT let them practice with a tee alone, at least in the beginning.
It is very common for kids to position themselves (or the tee) to compensate their weakness.
Incorrect Forms
For example, a batter who casts out their bats (i.e. arms straighten out just before making contact with the ball) will tend to stand far away so that they can hit.
Most "bat casters" are afraid of being hit so they tend to stay far away from the home plate. If left alone, a bat caster will simply re-emphasize their casting techniques and never learn to "stay inside the ball".
The same hold true for bat draggers as you seen on this picture.
Focusing only on one hitting spot
Another drawback of hitting off a tee is that, left on their own, players do not work enough on hitting the knee high pitche.
Most players naturally tend to leave the tee at their waist level because the balls are easier to hit (if you watched baseball, you know that pitchers mainly throw knee-high strikes induce grounders).
Similar to hitting from one height, another drawback is to leave the tee in one spot on the home plate (usually the front mid half point).
Very young players learning to hit for the first time should primary focus on making contact with the ball to improve hand eye coordination. But as players get older, they need to focus on hitting balls from various ontact points on the home plate:
Middle low, Middle mid, Middle high
Inside low, Inside mid, Inside high
Outside low, outside mid, Outside high
Being able to identify the location of a pitch and having the ability to control his bat are the qualities possessed by an elite hitter.
[maxbutton id="1″ url="#how-to-choose-the-best-batting-tee-for-your-child-table-of-contents"]
9 Things to Look Before Buying a Batting Tee
For many years, I have been telling people that it is not necessary to pay top dollars for a glove or bat because kids grow out of them quickly.
However, when it comes to buying a quality batting tee, paying a higher price does matter primarily because cheaper ones tend to fall apart over a short period of time.
Regardless of the model you ultimately choose, you should compare the following criteria before making a purchase:
Reputable brands (customer service)
Reputable brands sell high quality batting tees and stand behind their products when things go wrong.
Brands like ATEC, Easton, Jugs, McGregor, Schutt and Tanner have been successfully selling hitting tees for a very long time. Newcomers like Backspin, Powernet and SKILZ have solid product offerings but without the benefits of a proven track record.
Of the many batting tees I have owned and used in the past, the following three brands really stand out for having high quality products with very good durability, ease of use and excellent customer service:
ATEC
Jugs
MaxOver X4 (MaxOver X3 for home)
McGregor
Tanner
[maxbutton id="3″ url="#how-to-choose-the-right-batting-tee-table-of-contents"]
Durability
Younger kids who are just starting out will beat the heck out of a batting tee. More exactly, they will hit the tee stem more often than the actual balls.
All these repeated off-target blows can be very hard so cheaper plastic and rubber stems will break faster than metal stems.
[maxbutton id="3″ url="#how-to-choose-the-right-batting-tee-table-of-contents"]
Ball presentation & visibility
Traditional batting tees have a baseball or softball resting on a cradle (a.k.a. ball rest) so hitters contact the correct portion of the ball to produce line drives, without feeling the tee.
Then there is an upside-down batting tee from "Backspin Company". Unlike traditional hitting tees where the top part of the ball is exposed, the backspin tee is hangs a baseball over the plate revealing the bottom side of the ball.
Molded vs rolled sheet (ade from high-strength rubber and high-impact plastic for low bat resistance and longer life)
Because a ball is suspended in air, the ball presentation replicates a thrown ball vs a flat pitch presented by a traditional hitting tee.
[maxbutton id="3″ url="#how-to-choose-the-right-batting-tee-table-of-contents"]
Stability (anti-tipping)
One of the biggest time sucking tasks is to raise a tipped batting tee.The base of some batting tees, including Tanner Classic batting tee, are so light that any incorrect swings results In a tipped batting tee.
You can usually remediate this problem by purchasing a 10 pound standard weight training plate (2" hole) but this is yet another thing to carry to a field.
Instead, certain "heavy" or "pro" models come with solid base to prevent tipping.
Anti-tip design
The last thing a player wants if he or she accidentally hits the tee is for the whole unit to tip over. That's why some batting tees are now designed with an anti-tip design. The anti-tip tees are usually the ones with the heaviest bases, so you'll need to consider your portability needs when choosing one of these, as they can sometimes weigh up to eight pounds.
Most people who are considering buying a tee, would like one with lots of versatility that can be used by a maximum number of people. If you want your child to be able to go out in the backyard and hit the ball anytime they want, then you are going to need something that is very lightweight. So, that is your first step. The lighter the weight, the better a tee it will typically be. Some people will prefer something a little heavy and more durable, potentially.
[maxbutton id="3″ url="#how-to-choose-the-right-batting-tee-table-of-contents"]
Adjustable Height
Unlike the older batting tees, today's most of today's batting tee models are adjustable to suit the individual batter's height using a telescopic tubing method.
Some models further separate the height with youth (shorter) and adult (taller) batting tees by allowing you to interchange the stems.
Most adjustable tees can be as short as 21 inches and as tall as 46 inches.
[maxbutton id="3″ url="#how-to-choose-the-right-batting-tee-table-of-contents"]
Portability
As a coach, you have a lot of stuff to carry to a ball field (insert collapsible cart).
Certain batting tee models are designed with portability in mind by using lighter materials and use collapsible tripods. The downside to these portable models is that they tend to be light so they are not as durable nor can they resist tipping.
On the other hand, heavier models like Jugs 5-point hitting tee are more or less designed to be left behind, either in a dugout or nearby shed.
[maxbutton id="3″ url="#how-to-choose-the-right-batting-tee-table-of-contents"]
Multi-purpose
In most cases, a batting tee can accommodate both baseballs and softballs (11" or 12").
Replacement Parts
In a standard batting tee, the item that experiences the most wear and tear is the ball cradle. Although most reputable companies use high-grade malleable rubber to last years of use, you want to make sure that your cradle can be replaced if necessary
[maxbutton id="3″ url="#how-to-choose-the-right-batting-tee-table-of-contents"]
Replacement Parts
Some replacement parts can be almost as expensive as buying a new batting tee.
[maxbutton id="3″ url="#how-to-choose-the-right-batting-tee-table-of-contents"]
Warranty
Most reputable manufacturers like Tanner and Jugs offer 1 year warranty. So don't settle for a warranty period that is less than 1 year.
[maxbutton id="3″ url="#how-to-choose-the-right-batting-tee-table-of-contents"]
Classic Tees vs. Concept Tees vs. Hybrid Tees vs. Trainer Tees
When it comes to batting tees, there are four distinct designs:
Classic Tees
Concept Tees
Hybrid Tees
Hitting Trainer Tees
Classic Tee
This is the original batting tee design that has been around for many, many years.
Testament to it's simple functionality and durability, you can still find a variation of the original rubber batting tees (mostly McGregor) in garages and local league storage sheds.
There are a myriad of functional and qualitative differences between base plates, stems and ball cradle but in all cases, a batter places a ball on top of the cradle and swing.
Concept Tee
Concept hitting tees is designed to enforce certain batting mechanics.
Instead of simply placing a ball on top of a tee and hit, a concept tee forces the batter to work on his mechanics (i.e. eliminating bat casting, minimize downward or chopping swing, etc.) by providing various "guides" or visual cues.
There are tons of concept tees but two outstanding products are the Muhl Sports Advanced Skills Batting Tee (click here) and Louisville Slugger Ultra Instructo Batting Swing Tee (click here).
Hybrid Tees
The idea behind hybrid tees is similar to that of concept tees.
Hybrid tees also works to correct and reinforce correct batting mechanics in a unique way but unlike concept tees, hybrid tees do not offer rigid guides.
A good example of a hybrid tee is the "Backspin Tee" which holds a ball from the top, presenting the bottom-half of a baseball to prevent chopping swing.
Trainer Tees
Trainer tee usually has a ball that is tethered to the trainer. This allows a batter to quickly put in hundreds of swings in a short amount of time as there is no need to retrieve the balls.
A tethered ball means that the setup can be placed in a tight space and you don't have to worry about breaking windows.
One of the most popular trainer tee is SKLZ Hurricane Category 4 Batting Swing Trainer. I also own a Swing Away MVP Hitting Trainer which tethers a real baseball for more realistic hitting experience.
[maxbutton id="1″ url="#how-to-choose-the-best-batting-tee-for-your-child-table-of-contents"]
Age Appropriate Hitting Tees
Although hitting tee purchase decisions are primarily driven by the skill level of your child, there is no reason to spend a lot of money for a professional grade tee for young children.
I will break down the ages into four main categories and recommend a specific product for each:
Pre-schoolers (18 months – 3 years old)
Early elementary (T-ball; 4-5 years old)
Middle Elementary (6-8 years old)
Late Elementary+ (9+ years old)
Pre-schoolers (18 months to 4 years old)
At this particular age, you should focus on your child having fun.
That means buying toy-like batting tees with bats and plastic balls that are over-sized, lots of bright colors that makes lots of funny sounds to draw kid's attention.
You want to make it as easy as possible for your child to hit balls and giggle.
I would NOT worry about teaching them the basic swing mechanics or any of that sort because they are simply too young.
There are two products that fit into this category that I have personally used:
Little Tikes TotSports T-ball Set
Franklin Sports Kids Teeball
Little Tikes TotSports T-ball Set
Little Tikes T-ball set (click here for the latest price) is a vintage American product that has a cult-like following. It has been hugely successful as it has been around for over 30+ years. I have used it as a child and so have my children (the old bat used to be flat on one side to prevent it from rolling; newest bats are completely round)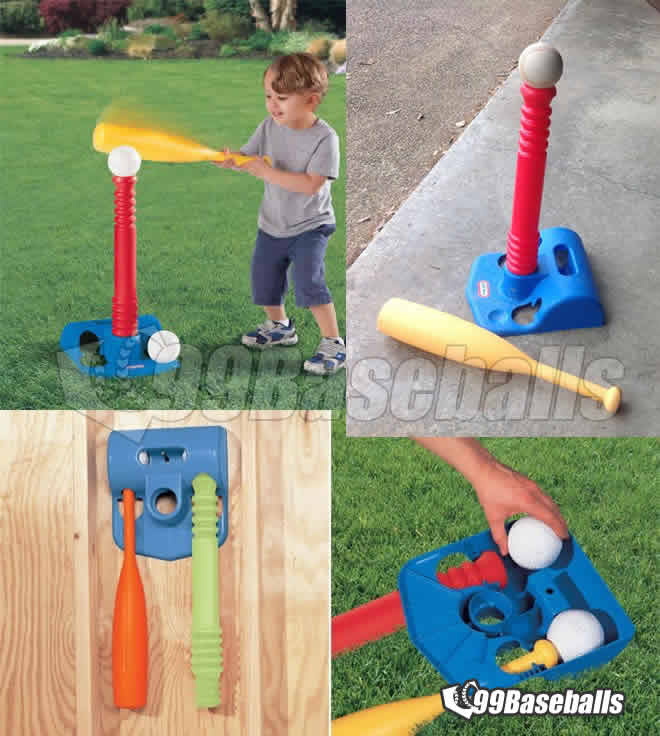 There are other, cheaper knockoffs of this classic teeball tee, but the Little Tikes sets itself apart from the competition with excellent design and manufacturing. From rounded edges (no sharp plastic knife-edges to cut your child's fingers) to durable vinyl plastic, this is one batting tee that can last multiple generations!
I highly recommend purchasing this set using my link to ensure that you get 5 plastic balls (instead of usual 2 balls). When you get the box, just make sure to check the opposite side of the box for additional balls!
If by chance you do not get all 5 balls, just call Little Tikes at 1-800-321-0183 and they will take care of you.
For more fun without taking time out to collect balls, consider getting some extra balls like these which are compatible with Little Tikes set.
As good as Little Tikes teeball set is, I wish the company would change the following:
Make the height adjustable by 3-5 inches. It is currently adjustable by 2-3 inches.
Even a well hit ball can easily tip over the tee. Re-design the base to allow weights or heavy objects
Plastic bat is very rigid so it will hurt if your child decides to swing it around and someone gets hit! The balls are made from more pliable plastic so I suggest the bat be made from the same material
As is with any hard plastic, the Little Tikes teeball set will discolor and/or warp if left outside in direct sun for a long period of time so I suggest that you store it in your garage (preferable) or shed.
With extra balls, base, bat and other equipment, it becomes very easy to misplace small items so you may wan to consider buying an extra large mesh bag to store everything to make it easier for your child to grab and go.
Franklin Sports Kids Teeball
I am including this Franklin Sports Grow With Me hitting tee because it presents the ball in a different way that I believe is beneficial to a young hitter.
Unlike a classic batting tee, Franklin Sports Kids Teeball (check for the latest price) is designed to suspend a ball using a hook and loop (i.e. velcro) system.
The height of the ball can be adjusted anywhere from 18 inches to 26 inches from the ground so it is a perfect height. In addition, it can be converted to a standard tee that can be adjusted from 25 inches to 36 inches as your child gets older/bigger.
This batting is unique in that it combines the benefit of a hanging tee with traditional tee.
The hanging tee design is specifically designed for youngest players where a ball is suspended at a height between 18 inches to 26 inches. Much like Fisher Price's Grow to Pro Hanging Tee (sadly no longer available for sale), it uses hook and loop technology (i.e. velcro) to attach a ball to tee (ball is covered in loop fabric).
The hanging tee can be converted to a traditional tee design by removing the arm attachment. The traditional tee height can be adjusted from 25 inches to 36 inches.
So what are some downsides to Franklin Sports Kids Teeball Tee?
Keep the balls relatively clean – loop fabric will attract lots of dirt; dirty baseballs will not easily attach to the hanging arm
Inadequate storage – see all those extra balls attached to the stem? One whack will knock off all those balls
Bulky storage – even with quad-pod legs removed, it's pretty bulky to store
Even with these negative points, this convertible tee should provide fun hitting activities for your child for a very long time.
Beginner (4-6 year olds; T-ball, Farm A)
At this age, your child will most likely hit the stem of a baseball tee more often than any other spot.
You don't need to overthink and buy something expensive. You need a simple tee with a stem that is constructed of highly durable rubber attached to a heavy base.
Rubber, not metal or hard plastic, will reduce bat stings and a heavy base will minimize tipping. With these considerations, any one of the following hitting tees will meet your child's needs:
Although I learned how to hit with a MacGregor batting tee eons ago (has bee around for 35+ years), I have to say JUGS is my favorite hitting tee because of ribbed telescoping neck (prevents slippage) and a nifty baseplate handle .
Middle Elementary (6-8 years old)
You may continue to use the same Tees as before for the majority of kids in this age bracket. But for select 7 or 8 year olds who have good hand eye coordination or are naturally athletic, you may want to consider one of the following tees to mix up the batting practice experience:
SKLZ Adjustable 5-Position Baseball and Softball Batting Tee
SKLZ Adjustable 5-Position hitting tee has an adjustable home plate where the stem can be moved around to start practicing different pitch locations.
The stem can go as low as 20 inches or as high as 34 inches.
The tube is made from heavy duty flexible rubber. Please note that the current version (as of January 2021), this tee comes with a standard flat top ball holder, not the cupped holder you see in some product brochures.
Click here to check out the latest price.
Jugs 5-Point Hitting Tee
JUGS 5-point hitting tee is another solid choice. While it is more expensive than a SKLZ 5-position batting tee, JUGS unit comes with 2 tubes as well as a nifty handle for easy transport.
The second tube can be used as a spare or as a guide (to reinforce hitting inside pitches).
Like the previously reviewed JUGS Hit Like a Pro Batting Tee for younger players, JUGS 5-position hitting tee also comes with inner tubes that are ribbed to hold the upper stem in place.
Click here to check out the latest price.
Late Elementary (9+ years old)
If your kid is still hitting the stem/post, she should continue to a previously mentioned tee.
On the other hand, kids who have consistently practiced with their tees should now be able to hit baseballs cleanly off of tees.
There are two products that fit into this category that I have personally used:
Product 1
Product 2